ModuleWorks develops innovative software components for the CAD/CAM industry. This software is used to control and simulate cutting-edge CNC machines and robots. Customers around the world use our software on state-of-the-art machines to manufacture a wide range of sophisticated products, such as aircraft turbines, engine parts and smartphones. More than 200 employees worldwide make Moduleworks a driving force in global innovation. Thanks to our ideas, Moduleworks is a leader in this segment with over 70% of the world market.
We are looking for an Algorithmic Developer  (f/m/d).
Your profile
You are an enthusiastic and experienced C++ developer.
You have an excellent 3-dimensional imagination.
You like to contribute with clever and creative ideas and want to show what you can do.
You prefer to work on real challenges, especially in the areas of geometry, mathematics and algorithm development rather than programming by the book.
Unit tests, code reviews, software architecture and refactoring are familiar words for you.
Our working language is English and your strong language skills mean you are comfortable with communicating in English.
You work independently to learn new topics and complex code and know how to ask the right questions.
We offer
Flexibility to work from home.
A "can-do" culture with a young management team where you have the chance to implement your innovative ideas.
Together we find the best solution for balancing your work and family life.
An attractive salary, flexible working hours, fitness courses (e.g. back training) and a subsidized company canteen.
Team building activities, including digital team events and virtual coffee breaks.
Our culture encourages and supports personal as well as professional development, e.g. through workshops and knowledge sharing sessions where you can expand and share your own skills and knowledge.
Our rapid growth gives you plenty of opportunities and openings for professional development.
Take part in national and European research projects.
Job description
In our team, we develop various algorithms for tool path planning on 5-axis CNC machines as well as a library for manipulating 3D triangle meshes.
You will develop new algorithms in one of these areas and extend and maintain our existing algorithms.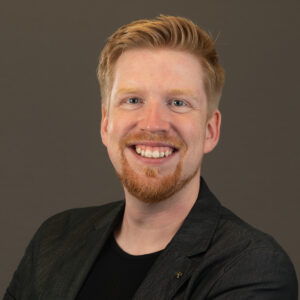 "I' m Claudio and I've been with the company since 2016. In 2020, I became leader of the Rotary&Multiblade team. What excites me here is that it's about real technical and mathematical challenges instead of programming by the book. I also love the fact that I can continue to develop software myself in parallel with my team leadership position. Bouncing thoughts back and forth with each other on the whiteboard and  making an algorithm possible with a brilliant idea that was previously considered impossible – these are the moments from which I draw my motivation.  At ModuleWorks, we strike the right balance between inspiring brainstorming and concentrated deep work."
What you can expect from us
At ModuleWorks you will find a friendly working atmosphere in an international and young team. We do not believe in strict structures and rigid ways of thinking, but instead offer diverse tasks and encourage flexible development that goes beyond flexible working hours and home office.
Interested? Then get in touch with us! We look forward to your application.
Only complete applications will be accepted for the application process.
ModuleWorks GmbH
Carlotta Schulze Wierling
Henricistrasse 50, 52072 Aachen
+49-241-990004-642
www.moduleworks.com
careers@moduleworks.com