News
ModuleWorks 5-Axis Machining supports barrel mill tools
Monday March 17th, 2014
Our development team has been working hard to add support for barrel mill cutters to our 5-Axis machining strategies. Recent testing has shown the benefits of this as part of the main 5-Axis component and also in the MultiBlade application.
Barrel mill cutters are not new but they have not been commonly used in 5-Axis applications until recently. Their unique geometry form has a number of benefits in the machining process. The effective radius of engagement is larger than a standard cutter form and this will result in smaller cusps between passes leading to better surface finish. Larger step over values can be used and this results in shorter machining times.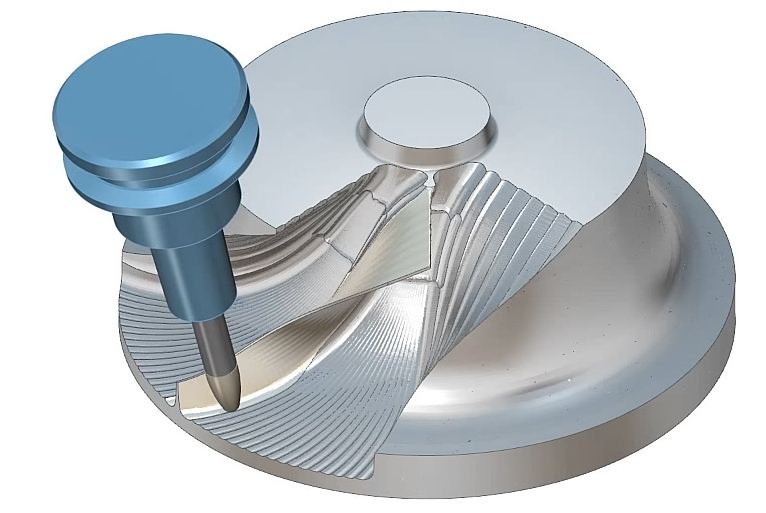 The ModuleWorks 5-Axis component allows barrel mill tools to be used with all of the existing machining strategies. The video example below shows how the barrel cutter can be used with the Swarf finishing of an impeller blade. This was a really neat toolpath to watch run on the machine.
This feature is available to ModuleWorks' partners who license the main 5-Axis component or the MultiBlade application
About ModuleWorks
ModuleWorks is a software component provider for the CAD/CAM industry. ModuleWorks' expertise in 5-Axis Machining and Simulation is recognized throughout the CAM industry and its software components and development services are used by the majority of the leading CAM vendors. ModuleWorks 5-Axis and Simulation software has been used in the manufacture of complex parts for over a decade and they have many users in the global CAD/CAM industry.