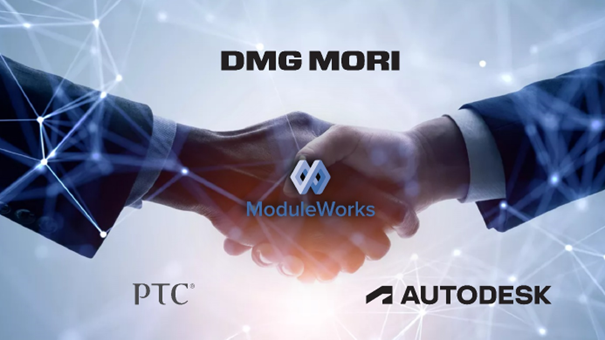 DMG MORI, one of the world's largest CNC machine tool manufacturers is leading the first round of investment. Autodesk, and PTC, two of the largest CAD/CAM vendors, are also participating. Further partners are expected to join soon, and the Strategic Partnership Program will be completed by the end of 2023. The program focuses exclusively on offering minority stake investments to key partners from different market segments: there will be no change in control of ModuleWorks.
ModuleWorks, a global leader in toolpath and simulation software components for digital manufacturing systems, has launched its Strategic Partner Program, which invites a selection of key partners licensing ModuleWorks technology to make a minority investment into ModuleWorks equity and help accelerate Digital Transformation in Manufacturing.
The investment proceeds will be used to increase ModuleWorks' Research & Development capacity with the objective of accelerating digital transformation in manufacturing by focusing on four key areas: CAM & CNC Automation, Advanced Additive Manufacturing, Cloud Computing, and Robotics.
Yavuz Murtezaoglu, Founder and Managing Director of ModuleWorks explains, "In the last 20 years since our foundation, ModuleWorks' neutrality and independence has allowed us to become the best-in-class supplier of toolpath and simulation components in CAD/CAM software and CNC hardware solutions. The Strategic Partnership Program enables us to maintain our neutrality and independence, while at the same time, extend our relationships with key partners and receive additional funding to increase our pace of innovation even further. We have developed 1500 person-years of manufacturing technology since our beginnings. With the Strategic Partnership Program investment, we aim to double that within a fraction of the time."
"ModuleWorks is a worldwide unique provider of embeddable toolpath and simulation components. DMG MORI and ModuleWorks share the same vision of CAD/CAM automation solutions. Together, with the global footprint of DMG MORI we will open a wide range of scalable opportunities for the shopfloors of our customers," said Christian Thönes, Chairman of the Executive Board of DMG MORI AKTIENGESELLSCHAFT.
"By investing in ModuleWorks, Autodesk is not only investing in a premier partner, but also in elevating the entire manufacturing industry," said Andrew Anagnost, Autodesk president and CEO. "As the industry looks to expand and re-align its supply chains, I can't think of a better time to be making this kind of investment. We are proud that Fusion will continue to not only leverage ModuleWorks' technology, but that it will also continue to be the leader in helping manufacturers move their processes to the cloud."
"PTC and ModuleWorks have enjoyed a longstanding relationship and we are pleased to contribute to this investment round," said Jim Heppelmann, CEO, PTC. "We expect ModuleWorks will continue to be an important partner as we execute our SaaS transformation strategy and bring new solutions to the manufacturing ecosystem."
Further news on the ModuleWorks Strategic Partner Program will be available later this year. Meanwhile, if you would like to know more, contact details are available below.
About ModuleWorks
ModuleWorks is the leading software component provider for the digital manufacturing industry. With over 200 employees and 1000 person-years of software development, ModuleWorks' expertise in toolpath creation and simulation is recognized throughout the industry and its software components are already optimizing the performance and quality of over 500,000 installed seats of CAD/CAM and CNC software around the world. From standard products to exclusive development projects, ModuleWorks helps companies to bring their vision of Industry 4.0 to life. With its comprehensive portfolio of cutting-edge software components, ModuleWorks enables its customers to optimize their CAD/CAM solutions and connect to CNC/MTB systems to increase their competitiveness and help them Get There Faster.
About DMG MORI:
DMG MORI is a worldwide leading manufacturer of high-precision machine tools and sustainable technologies that are at the heart of global value chains. In the "Global One Company" more than 12,000 employees are in direct contact with over 100,000 customers from 57 industries. DMG MORI is globally present in 88 countries with 16 production plants, 113 sales and service locations.
Integrated automation and end-to-end digitization solutions expand the core business with lathes and milling machines, ultrasonic, lasertec and additive manufacturing. The entire manufacturing know-how from more than 152 years flows into technology excellence for the focus industries Aerospace, Automotive, Die & Mold, Medical and Semiconductor. Customer-oriented services accompany the entire life cycle of a machine tool – including training, repair, maintenance and spare parts service. The strategic fit of automation, digitization and sustainability fits perfectly with DMG MORI's vision and mission statement: We empower our customers in manufacturing and digitization! We want to be the most attractive machine tool manufacturer worldwide with digital and sustainable products!
About Autodesk:
Autodesk is changing how the world is designed and made. Our technology spans architecture, engineering, construction, product design, manufacturing, media and entertainment, empowering innovators everywhere to solve challenges big and small. From greener buildings to smarter products to more mesmerizing blockbusters, Autodesk software helps our customers to design and make a better world for all. For more information, visit autodesk.com or follow @autodesk.