Start Your Career At ModuleWorks
At ModuleWorks we place great value on individuality and the personal and professional development of our employees. Our innovative and open company culture allows everyone to use and develop their skills and talents to the full and gives you the chance to go beyond the scope of your job description. Creativity and a willingness to embrace new ideas are at the heart of our work. This is one of the reasons why we have been recognized as one of Germany's best employers every year since 2014.

Let's build our future, together
Get To Know Us
Company Culture
Our Teams
Get To Know Us
Founded in 2003 and with more than 200 employees worldwide, ModuleWorks is a specialist software company and the market leader in its field.
We develop software components that our customers integrate into their own software products to expand and enhance their functionality. These are mostly CAD (Computer Aided Design) systems that can be expanded into CAM (Computer Aided Manufacturing) systems, including simulation of the machining process, through the integration of our components. For example, when an engineer designs a casting mold or an engine part or perhaps a turbine blade in a CAD system, our software components calculate all the movements a CNC machine/robot/3D printer needs to make in order to produce the part. Before the part is actually machined, a comprehensive and detailed simulation of the machining process is run to detect any potential problems and prevent costly damage to the machine and the part.
Our software components are part of the production process in different industries, such as the automotive, aerospace, medical and wood machining industries.
It is important for us that our employees like coming to work and feel comfortable working here. That's why we have regular team building events, enjoy a drink together in town after work, offer fresh fruit and free meals in our canteen and do what we can to ensure our colleagues feel good.
Company Culture
Our Teams
You're The Perfect Match For Us!
Looking for a new opportunity? Join our team and make an impact. Submit your application today and be part of our dynamic and innovative work environment. Reach out to us for any questions or more information about our open positions.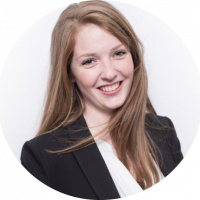 Carlotta Schulze-Wierling