Seamless, Easier, Faster, and More Cost-Efficient Exchange of Manufacturing Data with MDESLib - Equipment
Challenges Faced by Manufacturing Industry
The seamless flow of data in manufacturing organizations is essential for optimizing manufacturing processes, improving efficiency, and making informed decisions. It involves smooth exchange of data across various stages of the product lifecycle, from design and planning to production, quality control, and distribution. Establishing common data formats and standards is crucial for ensuring data compatibility and smooth exchange of data between different manufacturing systems and stakeholders.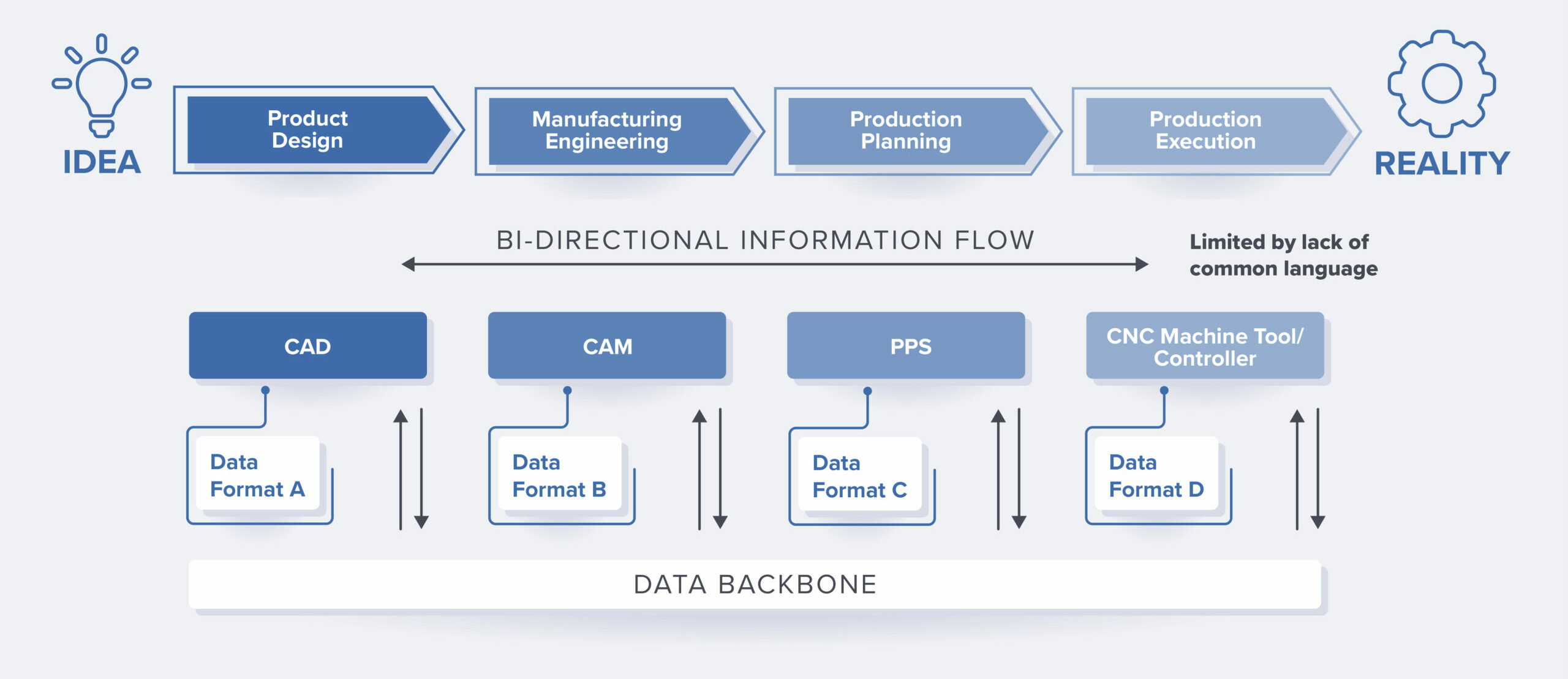 Typically, in a manufacturing organization, multiple hardware (e.g., CNC Machine Tools) and software systems (e.g., CAD-CAM software) need to exchange different types of data (e.g., tooling / fixture details etc.) with each other. Unfortunately, as such hardware and software systems are developed by different organizations, they use different types of proprietary data formats which cannot be exchanged as is, across multiple systems within the manufacturing organization.
To resolve this challenge in the past, the organization had to build different types of customized bridges for the exchange of data between various hardware and software systems. This requires in-depth technical knowledge of both systems being connected and results in dependencies on third-party system integrators along with additional time and cost.
Customized data exchange bridges put serious limitations on switching or upgrading of the systems. This may be depriving the manufacturing organization from leveraging the benefits of the latest developments in the technologies involved.
The MDESLib – Equipment is addressing organizations building software solutions that must be integrated into the digital thread of manufacturing organizations and suppliers of manufacturing equipment that want to feed the digital representations of their products into the software landscape of manufacturing organizations. This includes organizations developing CAM software, CNC automation systems, CNC machine tool builders, simulation systems, tool & fixture manufacturers.
Solution Offered by ModuleWorks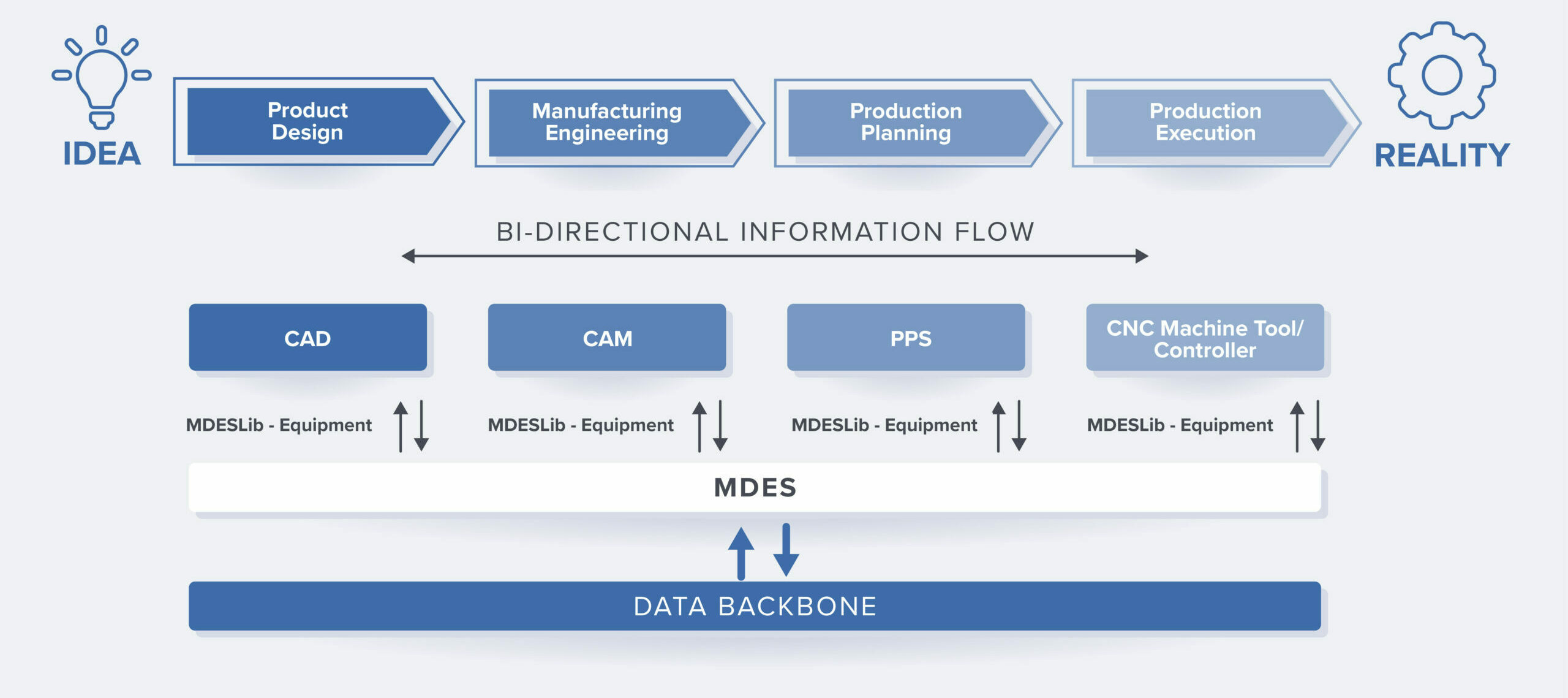 With the Manufacturing Data Exchange Specification, an open format for the exchange of digital representations of manufacturing equipment between various (hardware and) software systems across multiple process steps has been introduced. This covers tool components, assemblies, fixtures, stocks, setups, and their mounting in machine tools.
The open specification is freely available for everyone to adopt and enables the universal description of said manufacturing equipment for the purpose of data exchange between various hardware and software systems in manufacturing organizations.
Additionally, it can serve as the internal data model for the live handling of digital representations of the equipment during system runtime. The open specification is designed to be compatible with existing industry standards such as ISO13399 (Cutting tool data representation and exchange) or DIN4000-190 / DIN4003-190 (Tabular Layouts and 3D description of fixture devices).
To complement the open specification with ready-to-go software libraries, ModuleWorks has developed MDESLib – Equipment. These software libraries include basic read/write functionality to use datasets compliant to the specification together with toolpath and simulation components from the ModuleWorks SDK.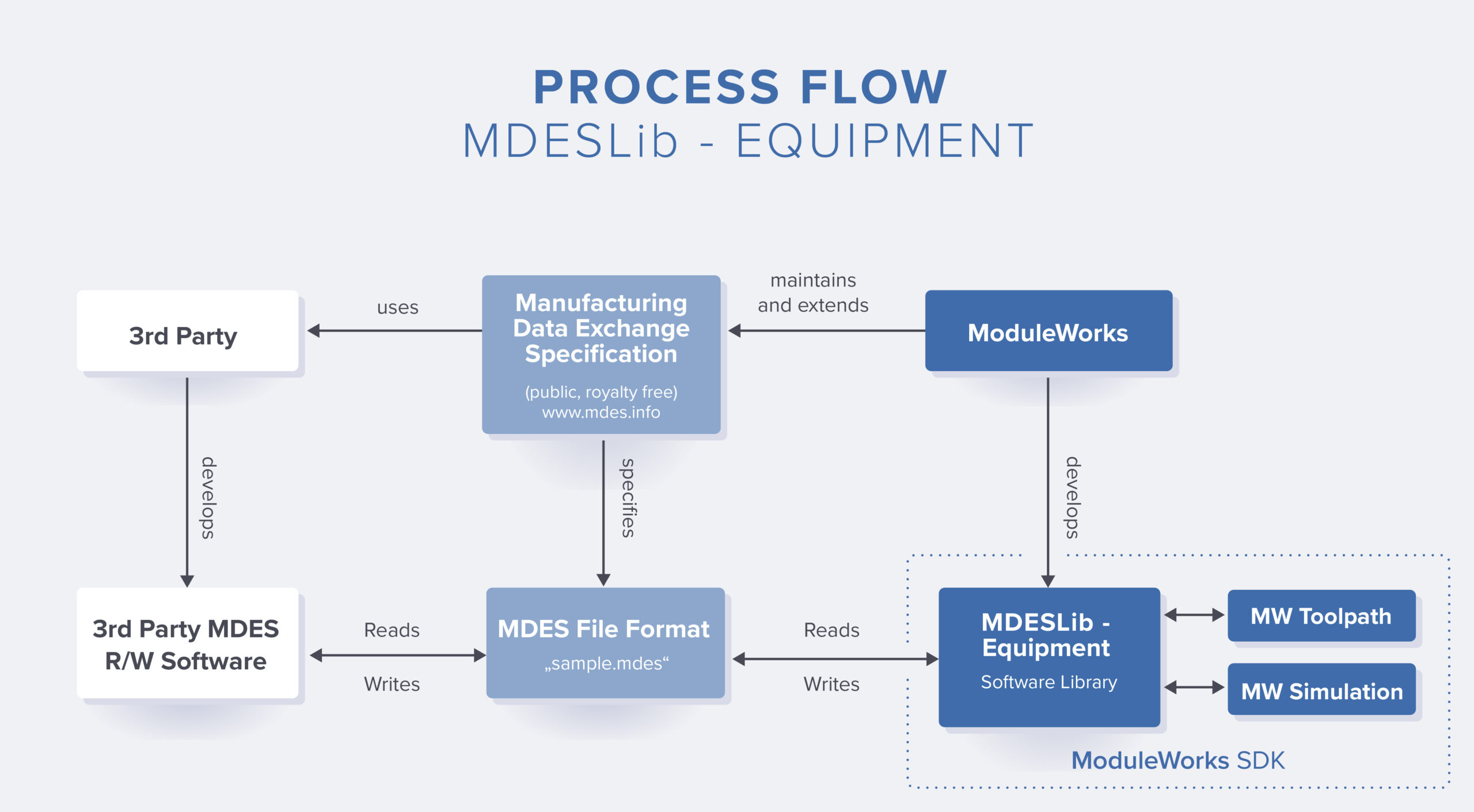 Additionally, ModuleWorks intends to provide valuable add-on functionality that facilitates connections with existing manufacturing equipment databases, supplier catalogues and selected incumbent data formats.
Major Benefits of MDESLib - Equipment
We Help You Bring the Vision of Industry 4.0 to Life