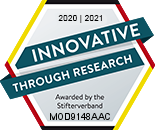 Many ModuleWorks products originate from research projects. Through the public funding we gain momentum to develop the technological basis for successful products. We can start preliminary developments even before market requests for new functionality, therefore we are able to be ahead of the demands and serve as the technology provider in for new technologies.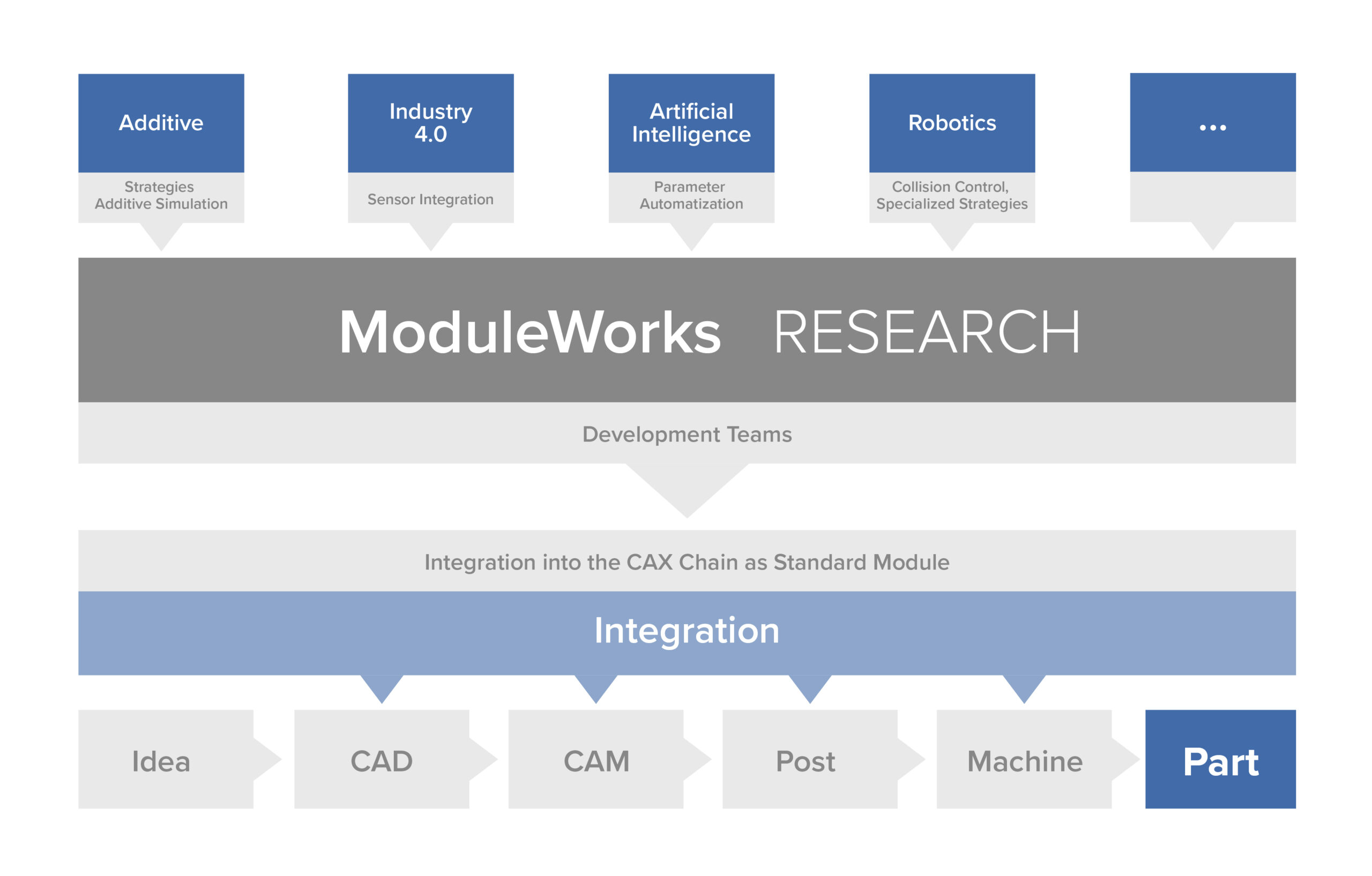 With our research department we can channel new technology streams. We help the innovative people behind the new ideas to get their new processes "additive, Robot milling" into the virtual process chain. On the other side we are able to integrate highly "virtual" topics like industry 4.0 into the same software basis. This serves as an enabler for these Technologies. ModuleWorks purpose is here to enable new and small partners and regular SME (small and medium enterprises) to digitize their processes or get their idea on the production floor.

We utilize for these projects the full power of our various development teams, by integrating the research tasks in our agile development. This assures that research results can be released as new products or features at no extra effort. Therefore, all ModuleWorks partners can utilise and profit from public funded research.
To reach these goals we are active in various technical areas to get in contact with as many active research groups as possible to assure that we think as far as possible outside of the box and contribute to all possible technical developments.
Expertise in developing
CAM software
Access to ModuleWorks
simulation libraries
Effective commercialization of
research results​
New Technologies as Success Drivers
CAM software is constantly evolving. New features and functionalities are being presented on a regular basis. As a leading industry player, ModuleWorks devotes significant resources to research and development, not only to keep pace with the competition, but also to go beyond current industrial practices. Many of the innovative ModuleWorks products stem from research performed within the company. Continuous development of new technologies is an essential part of ModuleWorks' strategy to empower its customers with state-of-the-art software components that enable them to continuously enhance and extend their CAD/CAM solutions.
Publicly Funded Research Projects
ModuleWorks is very active and successful in acquiring and conducting research projects backed by German and European agencies. The key to this success is our dedicated Research Department that coordinates the effective and efficient collaboration of experienced software developers with strong scientific backgrounds. If you have an innovative and outstanding idea that would benefit the CAM industry, our Research Team can help you elaborate it further and obtain additional funding from the state. With our expert knowledge in production technology, mathematics and computer science, we can support you on a wide range of research projects.
Just as excellent products and services require promotion via exposure through different media, the results of research activities need to be brought to a wider audience than just the small number of partners involved in research projects. ModuleWorks is a long-standing corporate member of CIRP, the most renowned community in the field of conventional and unconventional machining. Through active participation in CIRP meetings and conferences, ModuleWorks brings its newest developments and technologies to the leading industrial players. ModuleWorks also regularly publishes its latest research results in leading scientific journals.
Dr.
Denys Plakhotnik
Head of Research

Dr. rer. nat.
Valentina König
Research Program Manager
Innovative Technologies
Dipl.-Inform.
Eva Berckmann
Research Program Manager
Medical Applications
Dr. rer. nat.
Jonas Zielinski
Research Program Manager
Additive Manufacturing
Alejandro
Delgadillo
Research Project Manager

Deborah
Rogiers
Technical Writer
Research
Prof. Dr.-Ing.
Marc Stautner
Research Director