Opening up Possibilities for Digital Photonic Production
Funding agency:
Bundesministerium für Bildung und Forschung
The research and development project "Forschungscampus Digital Photonic Production – Open-Know-how-Pool (DPP-Open)" is funded by the Federal Ministery for Education and Research under the project no. 13N15427.
The project "Forschungscampus Digital Photonic Production – Open-Know-how-Pool (DPP-Open)" unites academic research and industrial application to improve digital photonic production (DPP). While this technology could serve as a key driver for the digital transformation of production, there are numerous obstacles to be faced until the process reaches the prerequisites for its wide use. Therefore, different project partners work together to establish an Open-Know-how-Pool of digital photonic production which will enable the utilization of the technology in both individual solutions and entire value chains, benefiting both academia and industrial production.
Digital photonic production describes processes in which light, usually in the form of a laser beam, is used as a tool for production processes. One advantage of digital photonic production is its efficiency. It does not run out and other mechanical tools to cut or grind are not required, while it is still possible to apply or remove varied materials. Another advantage is that photonic-based production allows to produce parts in very small production batches. It also enables the manufacturing of the most complex geometries. While digital photonic production is equally important and innovative for different industries and applications, several obstacles of its implementation must be faced.
Firstly, the quality standard of digital photonic production is not comparable to other production processes. Secondly, even when using photonic-based production plants of the same type, the results are not consistent in quality. The ensuing consequence is a need for expensive process monitoring systems or test methods to ensure stable workpiece quality and to identify defect components. However, the main challenge for digital photonic large scale productions is the low productivity of the process. This obstacle is commonly overcome with the implementation of several laser beams. Yet, this might also lead to other obstacles as unwanted interactions can occur in systems with multiple beams working in parallel, reducing the robustness of the process.
Apart from the process itself, the materials processed are another area of concern. Typically, the same alloys used for other production processes are used for digital photonic production since documentation and test procedures have been obtained beforehand and can be used for approval. While this may result in a seemingly simpler and faster release of production, research has found systematic advantages of alloys specifically designed for digital photonic production
Previous developments and research illustrate the advantages of digital photonic production, its possibilities and areas that need further understanding. This results in the aim of the project DPP-Open which is a holistic investigation of digital photonic production chains and the transformation of entire production systems to suit photonic production. In the project the advancement of digital photonic production is targeted in two different ways. On one hand, the benefits of digital photonic production ought to be increased and on the other hand, the resources used for digital photonic production need to be reduced. The increase of benefits may include individualization, improved precision and quality and the processing of new materials.  The reduction of resources involves the decreased use of time, energy, and raw materials. In order to address these widely differing aspects of digital photonic production, the project is structured in research and application units. The research units are titled  digital,  photonic and production, while the application units divided into additive production and subtractive production.
The outcome of the project is a rich foundation for further research on digital photonic production to explore and advance this technology. ModuleWorks helps to develop and design a virtual process chain for continuous digital photonic production in the project. This specifically involves the development of a concept for the representation of metamaterial and the development of a slicing module as well as a data processing model for the Laser Powder Bed Fusion (LPBF) process.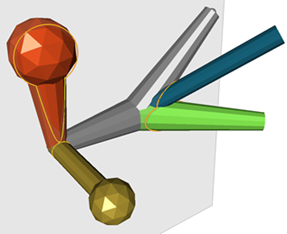 Visualisation of the slicing module developed by ModuleWorks. The yellow lines represent the contours of each slice. 
It furthermore involves deriving a concept to consolidate process control features with the toolpaths derived from CAM. ModuleWorks lastly helps with the application of a software component to autonomize procedural structural designs. This component is developed in conjunction with AixPath to work towards a direct integration of the component in different CAM solutions.