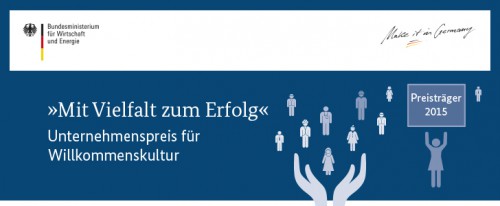 ModuleWorks, the leading supplier of software components to the CAD/CAM industry is proud winner in a competition by the German Government titled "Mit Vielfalt zum Erfolg" ("Success through Diversity") which aims at stimulation of employment, immigration and integration of non-German skilled workers. The award honors a high degree of inclusion and diversity within German companies and the measures that are taken by employers to sustain it.
ModuleWorks is a world leading developer of CAM (Computer Aided Manufacturing) plug-in software components with headquarters in Aachen, Germany and three international subsidiaries. It licenses its components to other CAD/CAM software companies and academic institutions around the globe. These software components can be viewed as the building blocks that underpin many of the most popular CAD/CAM software products around the world.
As one of six awarded companies throughout Germany, ModuleWorks has convinced the Jury of more than 10 renowned specialists from industry and politics. According to the Jury ModuleWorks has a unique and exemplary approach to social and professional integration of immigrants who choose to work for the Aachen-based software company. By means of various resources and entities ranging from direct assistance, Social Contact and online wiki platforms to home-based trial periods or assistance with all administrative aspects of relocation (to mention a few), ModuleWorks significantly eases the process of social and professional integration. "Our participation in the competition is important for ModuleWorks because it has provided an independent view of our company and culture" comments Jens Beissel, Marketing & HR Manager at ModuleWorks. He also says "We are very pleased to be recognized by the experts in the Jury appointed by the German Federal Ministry of Economics and Energy and we are delighted that our HR work ranks among the best in Germany.".
| | | |
| --- | --- | --- |
| A ModuleWorks delegation went to the German Federal Ministry of Economics and Energy in Berlin on Tuesday to participate in the award ceremony. | | |
About ModuleWorks ModuleWorks is a software component provider for the CAD/CAM industry. ModuleWorks' expertise in 5-Axis Machining and Simulation is recognized throughout the CAM industry and its software components and development services are used by the majority of the leading CAM vendors. ModuleWorks 5-Axis and Simulation software has been used in the manufacture of complex parts for over a decade and they have many users in the global CAD/CAM industry.