ModuleWorks, the leading supplier of CAD/CAM software components for machining and simulation, launched "exocam powered by ModuleWorks" at the 2016 Chicago Lab Day.
exocam powered by ModuleWorks combines the exocad nesting module with the easy-to-use ModuleWorks Dental Framework. Dental Framework is a dental CAM-engine that performs toolpath calculations and outputs the corresponding NC file. It uses machining templates in the form of xml scripts for efficient and flexible implementation, and contains a complete toolset library for manufacturing a wide spectrum of dental indications. The integrated kernel, which is used for the toolpath calculations, provides high performance 3-Axis and 5-Axis CAM features for enhanced machining strategies in dental milling and grinding applications. Dental Framework can be featured with optional machine and material removal simulations.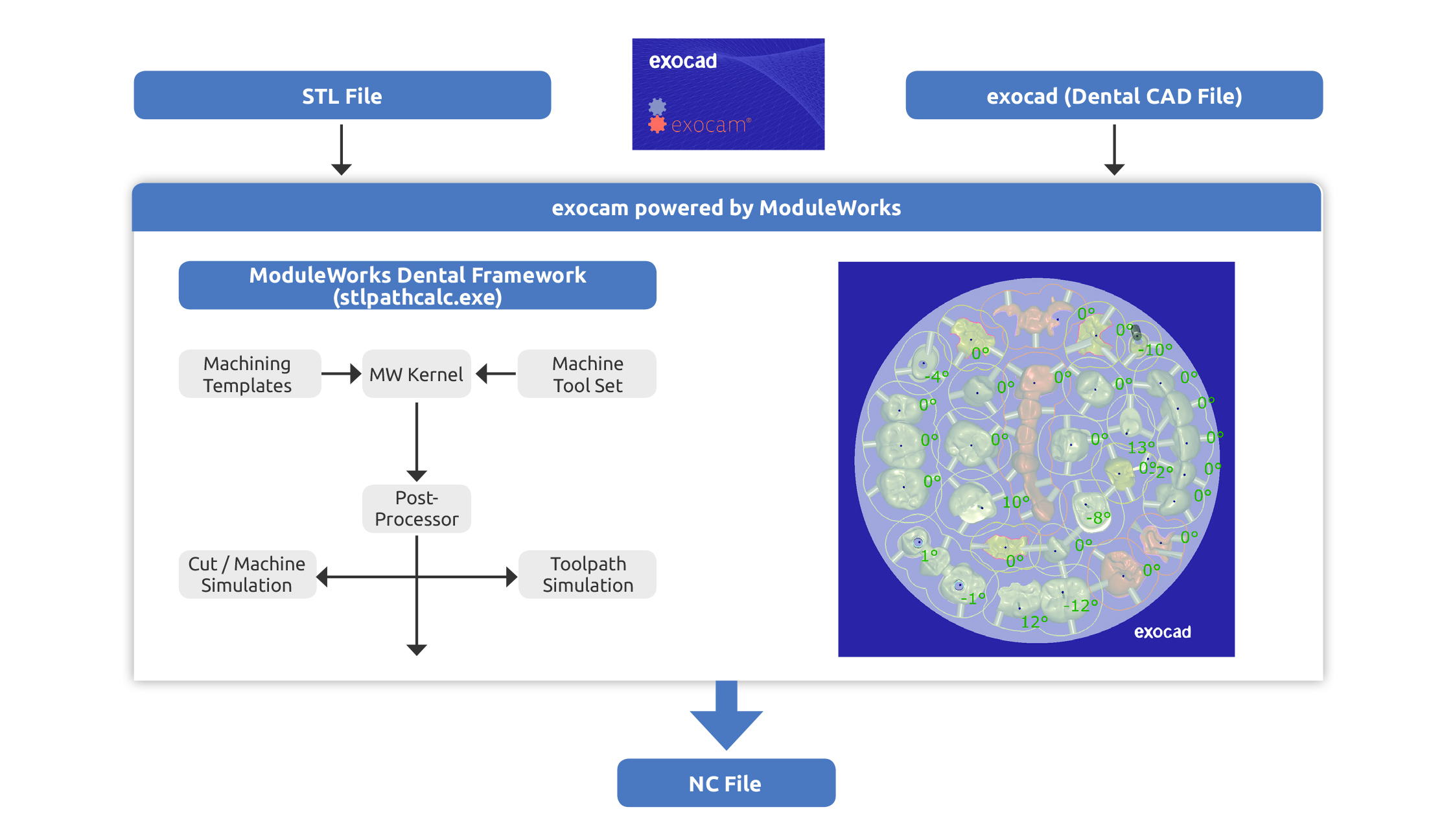 The exocad-exocam environment offers an open interface for loading CAD files designed in exocad (*.dentalCAD) or other CAD software (*.stl) and a high performance integrated CAM-engine with verified machining template to deliver a complete dental CAM product that boosts efficiency and productivity in dental labs and milling centers.
exocam powered by ModuleWorks is intended for dental CNC machine resellers and manufacturers, and the first sales agreements were negotiated and signed at the Chicago Lab Day.
"We are delighted with the positive reception of this new high-performance dental CNC application", says Yavuz Murtezaoglu, Managing Director of ModuleWorks. "The flexible and comprehensive ModuleWorks Dental Framework in the exocad environment enables resellers and OEMs to offer a complete and cost-effective dental CNC solution."
For more information about exocam powered by ModuleWorks, please see the factsheet and the latest videos on Youtube .
If you require any further information, please send an email to: support-dental@moduleworks.com
About ModuleWorks
ModuleWorks is a software component provider for the CAD/CAM industry. ModuleWorks' expertise in toolpath creation and simulation is recognized throughout the CAM industry and its software components and development services are used by the majority of the leading CAM vendors for industry focused solutions across diverse business sectors. ModuleWorks Dental Framework brings these benefits to the dental CAM industry. Already used by many leading Dental systems, the advanced 3-Axis, 4-Axis, 5-Axis and Simulation technology provides rapid toolpath calculation times, fast machining times and high quality results.