| | |
| --- | --- |
| | |
ModuleWorks, the leading supplier of CAD/CAM components for 3-5-Axis toolpath generation and simulation have confirmed their partnership with leading CAD/CAM vendor, Alphacam, and will now offer ModuleWorks 5-Axis machining technology as part of the Alphacam product.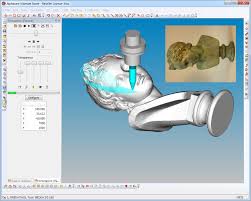 Alphacam is an intelligent and intuitive CAD/CAM Software package for Woodworking, Metal & Stone Cutting developed by Vero Software. The company's product portfolio includes many industry leading software solutions for the manufacturing industry. Nick Spurrett, General Manager for Alphacam comments "Our customers have been telling us they have growing requirements for advanced 5-Axis technology. Having seen the success of ModuleWorks technology with other products in the Vero family, it was an easy decision to work with ModuleWorks to advance the 5-Axis capability within Alphacam. Our customers are delighted with the results which are allowing them to solve ever more complex manufacturing challenges". Yavuz Murtezaoglu, Managing Director and founder of ModuleWorks adds "We're delighted to have Alphacam as a partner for our 5-Axis component technology and very we're pleased to see the success so far. This type of collaboration underlines the benefits of a partnership with ModuleWorks which has delivered advanced and industry proven 5-Axis technology to Alphacam customers in a relatively short period of time."
About Vero Software
Vero Software is a world leader in CAD CAM software with a proven track record of reliable product delivery. Vero develops and distributes software for aiding the design and manufacturing processes, providing solutions for the tooling, production engineering, sheet metal, metal fabrication, stone and woodworking industries. The company's world-renowned brands include Alphacam, Cabinet Vision, Edgecam, Machining STRATEGIST, Radan, SMIRT, SURFCAM, VISI, and WorkNC, along with the production control MRP system Javelin.
About ModuleWorks
ModuleWorks is a software component provider for the CAD/CAM industry. ModuleWorks' expertise in 5-Axis simultaneous machining and Simulation is recognised throughout the CAM industry and its software components and development services are used by the majority of the leading CAM vendors. ModuleWorks 5-Axis and Simulation software has been used in the manufacture of complex parts for over a decade and they have many 1000's of users in the global CAD/CAM industry.