ModuleWorks, the leading supplier of CAD/CAM components for toolpath generation and simulation have extended their successful partnership with Direkt CNC to include ModuleWorks toolpath generation technology.
Direkt CNC and ModuleWorks have been partners since 2010 with ModuleWorks providing Machine and Stock Removal simulation technology for Direkt CNC's NC-Hops CAD/CAM product. The extended agreement will see NC-Hops incorporate ModuleWorks technology for 3-Axis toolpath generation. The extended agreement was finalized at the recent LIGNA 2015 trade show in Hanover, Germany.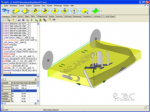 Direkt CNC's NC-Hops product is a complete CAD/CAM solution for the woodworking industry. Its powerful template based macro programming language combined with a full graphic representation provides rapid and error free CNC programming of wood components on any CNC router equipment.
New versions of NC-Hops will feature ModuleWorks 3-Axis toolpath generation technology providing a full range of flexible roughing and finishing machining strategies including intelligent adaptive roughing and rest material finishing optimized for woodworking applications. Test builds are currently at beta sites with a full scheduled later in 2015.
Yavuz Murtezaoglu, Managing Director and founder of ModuleWorks comments "We're delighted to have reached agreement with Direkt CNC to extend our partnership agreement. They were one of our earlier partners in the woodworking market place and have been a great example of the successful use of component technology to extend and enhance their product."
About Direkt CNC. Direkt CNC were founded in 1982 and specialize in CAD/CAM solutions for wood manufacturing. Their NC-HOPS product provides a complete solution for the programming of wood components and includes a full suite of toolpath generation and simulation tools. NC-HOPS is available in many language and has more than 9000 users around the world.
About ModuleWorks ModuleWorks is a software component provider for the CAD/CAM industry. ModuleWorks' expertise in 5-Axis Machining and Simulation is recognized throughout the CAM industry and its software components and development services are used by the majority of the leading CAM vendors. ModuleWorks 5-Axis and Simulation software has been used in the manufacture of complex parts for over a decade and they have many users in the global CAD/CAM industry.