ModuleWorks wins three Great Place to Work® awards 4 times in a row.
Leadership, teamwork, professional development and life balance – these are the decisive factors that employees rate when filling in the anonymous Great Place to Work® survey and in which ModuleWorks was able to convince again. Based on the employee survey, ModuleWorks won awards in three categories to achieve a hat-trick for the fourth year in a row and an award in at least one category 6 years in a row.
ModuleWorks got a top 20 ranking in all three categories:
The competition was fierce: More than 600 companies from all regions and business sectors in Germany entered the 2019 competition. These include companies such as Adobe Deutschland, PayPal Germany and salesforce.com Germany GmbH. The top 100 companies received the title "Great Place to Work". ModuleWorks was ranked in place 20 in the category "101-250 employees".
The "ITK-industry" category is especially important as the digital industry continues to grow and companies compete to attract highly qualified workers. All the more significant that ModuleWorks reached 10th place in this category.
Nearly 150 companies participated in NRW. 47 of these companies were awarded the title of being one of the best employers in North-Rhine-Westphalia. ModuleWorks was ranked in place 14 in the category "50-250 employees".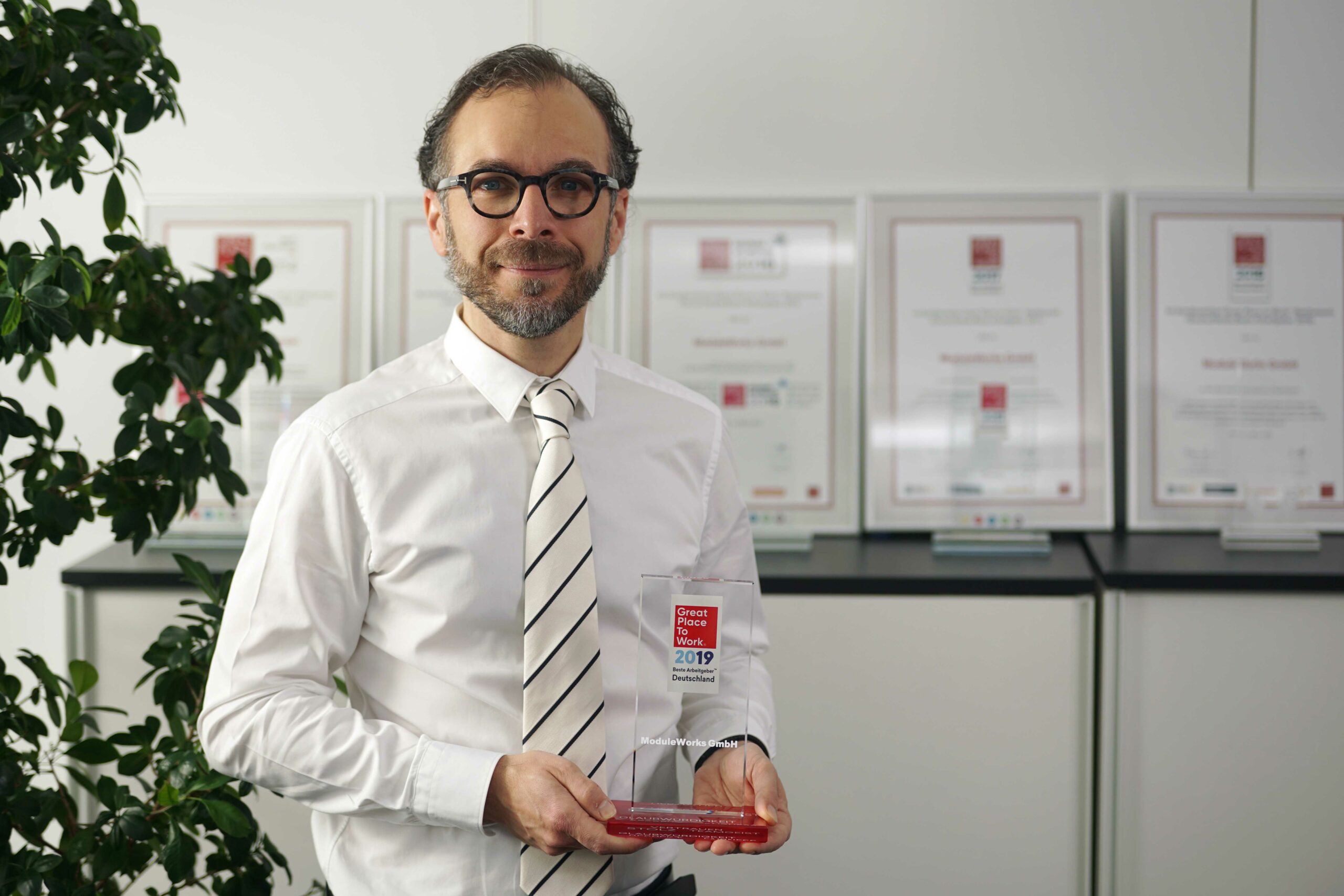 "We are proud to achieve the hat-trick yet again," says Jens Beissel, Head of HR at ModuleWorks. "It's becoming more and more important to design attractive and future-oriented jobs and to create a pleasant working atmosphere. It feels great to know that our employees enjoy working for ModuleWorks. It encourages us to keep up the good work."
About Great Place to Work®
Great Place to Work® is a global research, consulting and training consultancy that helps organizations in 57 countries worldwide to identify, create and sustain great workplaces through the development of high-trust workplace cultures. The awards are presented to businesses based on an employee survey concerning central topics such as leadership, teamwork, professional development and life balance.