At the Formnext 2021 (Nov 16-19 in Frankfurt, Germany), ModuleWorks spoke with Andreas Saar, former Vice President of Manufacturing Engineering Solutions at Siemens, about the advances and challenges in additive manufacturing.
The increasing demand to manufacture complex geometries and structures for higher performance, better functionality and greater usability of print products, the need for ecologically sustainable manufacturing and seamless individualisation possibilities are just some examples of the rising attraction of additive manufacturing (AM). While 3D printing had already started in the 1980s, it took several decades until the potential of additive manufacturing processes was established in industrial production and the technology became a major mode of production for large enterprises.
Andreas Saar has experienced and followed different manufacturing trends during his more than 35 years in the industry and shares his insights and predictions on where the industry is heading.

After graduating in Mechanical Engineering and Business Administration at the Technical University of Darmstadt in 1982, Andreas Saar started working at UNC, an early developer of CAM software for the machinery, mold and die market. He continued his career as the Director of CAM Development at EDS Unigraphics. In 1998, Andreas Saar took over the Digital Manufacturing product development for Unigraphics Solution and later Siemens PLM in the USA, eventually becoming Vice President of Engineering Solutions. 
While working at Siemens, he represented the company as a Member of the Board of Directors of the Commonwealth Center of Advanced Manufacturing. During his last 6 years at Siemens, he initiated and was responsible for the company-wide Additive Manufacturing Program. Currently, Saar is the Senior Advisor/board member for several additive manufacturing companies such as Evolve Additive Solutions and others.
MW: Additive manufacturing has been around since the 1980s but is only now being used extensively. Why has it taken so long?
AS: The main adaptation of additive manufacturing for commercial production happened only recently. This adaptation occurred as soon as the quality of printed parts had significantly improved, and the technology was advanced enough to leave the laboratory and became fully integrated into design and production lifecycles.
MW: How mature is the technology?
AS: Companies still have to decide between different technologies for polymer and metal printing such as Powder Bed Fusion (PBF), Fused Deposition Fabrication (FDM) or Direct Energy Deposition (DED). The choice of each technology depends on the industry as well as the individual needs and requirements of the respective company. All the technologies have advantages and disadvantages which demand careful consideration when deciding which one to use. Some technologies such as Fused Deposition Fabrication and Powder Bed Fusion are more widely used already, for example in the aerospace industry. However, choosing and adapting the appropriate technology will become even more complicated as the development of these technologies progresses due to highly complex manufacturing processes and small-scale production. This is especially true for newly developed additive technologies that are not yet ready for production.
MW: Despite these difficulties, are you optimistic about the continued successful adoption of 3D printing technology?
AS: The road to success can be smooth if software and hardware technologies are in tune with each other. Additive manufacturing will continue to remain a prototype technology if the production process is too expensive and if printing remains largely driven by trial and error. Another problem is that multiple, disconnected software packages are needed to create a valid printer path. Also, additive manufacturing is a digitally driven process that needs integrated end-to-end technology from design to manufacturing to be a practically and economically advantageous alternative to current manufacturing processes. Consolidation of different software modules into one digital thread is one of the main challenges in the coming years to make additive manufacturing more easily available for larger scale production.
MW: You say that software and hardware need to be tuned into each other. Could you explain what you mean?
AS: In the beginning, printer manufacturers had to develop their own software packages to drive their hardware since no standards or general additive manufacturing software packages were available to support different technologies. As the hardware technology advanced, the requirements on the software to support these new technologies increased as well, including methods such as multi-laser, multi-materials, complex supports, 3D nesting and others.
MW: So, to deliver the latest 3D printing technologies, manufacturers have to ensure their software develops at the same pace as their hardware.
AS: That's right, and since many OEMs do not have sufficient software development resources in-house, they started to look for partners who specialize in developing high-end and/or highly complex software modules that support these processes and integrating the modules into their own software solutions to reduce development costs and accelerate time to market for new additive technologies.
MW: Can you tell us more about these technology partnerships and how they drive technology development?
AS: OEMs have been working with specialist software developers for many years in the area of subtractive manufacturing and the benefits of this business model are now being applied to additive manufacturing. A good example is the Germany based software developer, ModuleWorks. The company originally specialized in the development of advanced toolpath engines and simulation technology for subtractive processes and is now adapting this technology to offer toolkits and software libraries for additive manufacturing. Technology providers like ModuleWorks are perfectly placed to quickly develop the required software. ModuleWorks already offers libraries for Powder Bed Fusion (PBF), Fused Filament Fabrication (FFF), Laser-Powder and Wire-Arc Additive Manufacturing (LPBF/WAAM) for multi-axis deposition, also in combination with robotic applications. The applications are individually tailored and ready to be used in various industries; the software modules are open, customizable and easy to integrate.
MW: You mentioned tailored applications. Is it important for technology partners to work together to develop new technology and solutions?
AS: Ideally, the relationship between the software component provider and the OEM is that of a long-term trusted advisor. ModuleWorks understood from the very beginning that they are successful only when their customers are. This means working with their OEM partners, understanding the requirements, and translating those requirements into easy to integrate software components or products. These technology partnerships enable software and hardware OEMs, as well as their end-users, to collectively achieve their goals and to make additive manufacturing an important and valuable production technology.
MW: The foundation for future development looks to be in place. What will we see next?
AS: While additive manufacturing is still at the beginning of this journey, it will follow the same pattern as other areas of technology. It is very likely that both technologies – additive and subtractive – will become part of an integrated production process. This is already happening today in the form of hybrid manufacturing.
MW: Thank you Andreas for talking with us.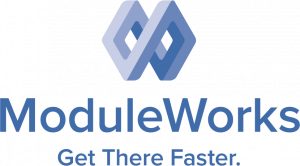 ModuleWorks is the leading software component provider for the digital manufacturing industry. With over 200 employees and 1000 person-years of software development, ModuleWorks' expertise in toolpath creation and simulation is recognized throughout the industry and its software components are already optimizing the performance and quality of over 500,000 installed seats of CAD/CAM and CNC software around the world. From standard products to exclusive development projects, ModuleWorks helps companies to bring their vision of Industry 4.0 to life. With its comprehensive portfolio of cutting-edge software components, ModuleWorks enables its customers to optimize their CAD/CAM solutions and connect to CNC/MTB systems to increase their competitiveness and help them Get There Faster.