ModuleWorks, the leading supplier of CAD/CAM software components for machining and simulation, announces that ModuleWorks and BobCAD-CAM have collaborated on a new NC Editor that provides an enhanced G-code editing and verification environment.
ModuleWorks and BobCAD-CAM worked closely together to design an editor that fulfills the needs of the full spectrum of users who require G-code editing and verification software. The ModuleWorks NC Editor is part of the ModuleWorks product line and is available now to all ModuleWorks partners.
BobCAD-CAM Version 31 is the first commercially available CAD/CAM software to use the powerful new ModuleWorks NC Editor for editing, simulating, back plotting and verifying G-code for multi-axis CNC machining.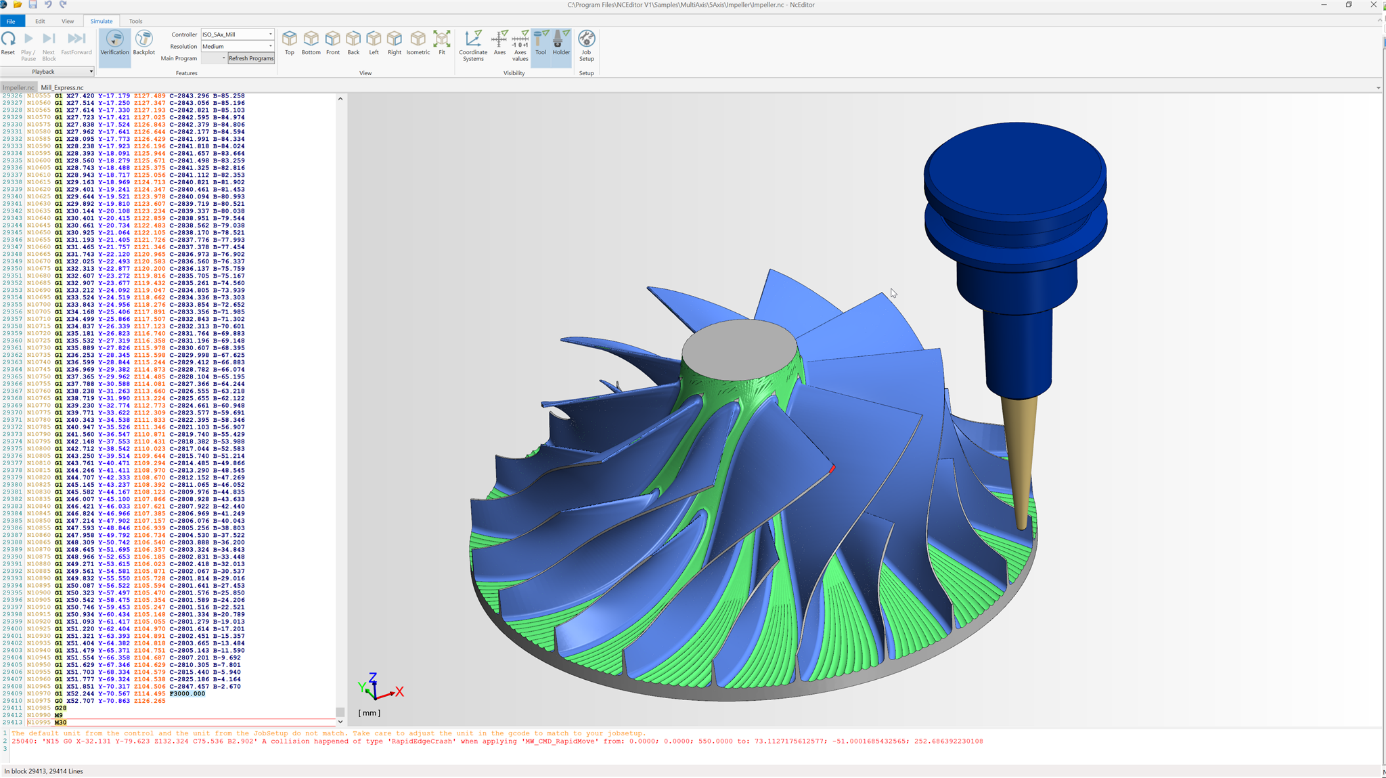 The ModuleWorks NC Editor has an intuitive interface with step-through code editing and automatic color highlighting of functions to simplify and speed up the editing process. For improved machine safety, there is instant 3D simulation while editing the program to enable users to detect programming errors and potential collisions between the tool and stock at a glance and to instantly verify any changes to the code. Integrated Job Setup for fast and flexible tool creation, including holders and adapters, and built-in support for multiple CNC machines to further accelerate and simplify the editing and verification process.
"We wanted an editor that would meet the G-code editing needs of all our customers, and we are delighted with the result of our collaboration with ModuleWorks", explains Greg Myers, Director of Software Development at BobCAD-CAM. "We can now offer our customers a comprehensive, cost-effective and easy-to-use G-code editing and verification system that optimizes the quality and efficiency of their machining processes."
"We are very pleased that the NC Editor has become the system of choice for BobCAD-CAM", says David Plater, Technical Director at ModuleWorks. "It's great to see how our specially designed G-code editing environment is helping users quickly and easily optimize the quality of their G-code for safer and more cost-effective machining."
Visit ModuleWorks at IMTS 2018, AMB 2018 and JIMTOF 2018
About ModuleWorks
ModuleWorks is a software component provider for the CAD/CAM/CNC industry. ModuleWorks' expertise in toolpath creation and simulation is recognized throughout the industry and its software components and development services are used by the majority of the leading CAM vendors for sophisticated industry focused solutions across diverse business sectors. ModuleWorks 5-Axis and simulation software has been used in the manufacture of complex parts for over a decade and they have many users across the global CAD/CAM/CNC industry.
https://www.moduleworks.com
About BobCAD-CAM
Since 1985, BobCAD-CAM has been developing easy to use and affordable CAD-CAM software. We offer CNC programming solutions for Mill, Mill Turn, Lathe, Router, Waterjet, Plasma, Laser, and Wire EDM machines. BobCAD-CAM integrates CAD and CAM functionality in a single interface. This gives a seamless transition from the design process to toolpath programming, simulation and g-code processing.  From aerospace engineers to home shop machinists, BobCAD-CAM helps everyone design and manufacture precision parts, regardless of experience.
https://bobcad.com