DAL DT Technologies uses "exocam powered by ModuleWorks" to provide a high-performance, fully integrated workflow for dental milling applications. DAL uses the technology in its own dental laboratories and is also an official reseller.
exocam powered by ModuleWorks is seamlessly integrated into the exocad CAD software and is a complete and easy-to-use dental CAM solution. It uses machining templates in the form of xml scripts for efficient and flexible implementation, and contains a complete toolset library for manufacturing a wide spectrum of dental indications. The integrated kernel, which is used for the toolpath calculations, provides state-of-the-art 3-Axis and 5-Axis CAM features for enhanced machining strategies for dental milling and grinding. The optional machine and material removal simulations offer realistic visualization with advanced collision avoidance algorithms.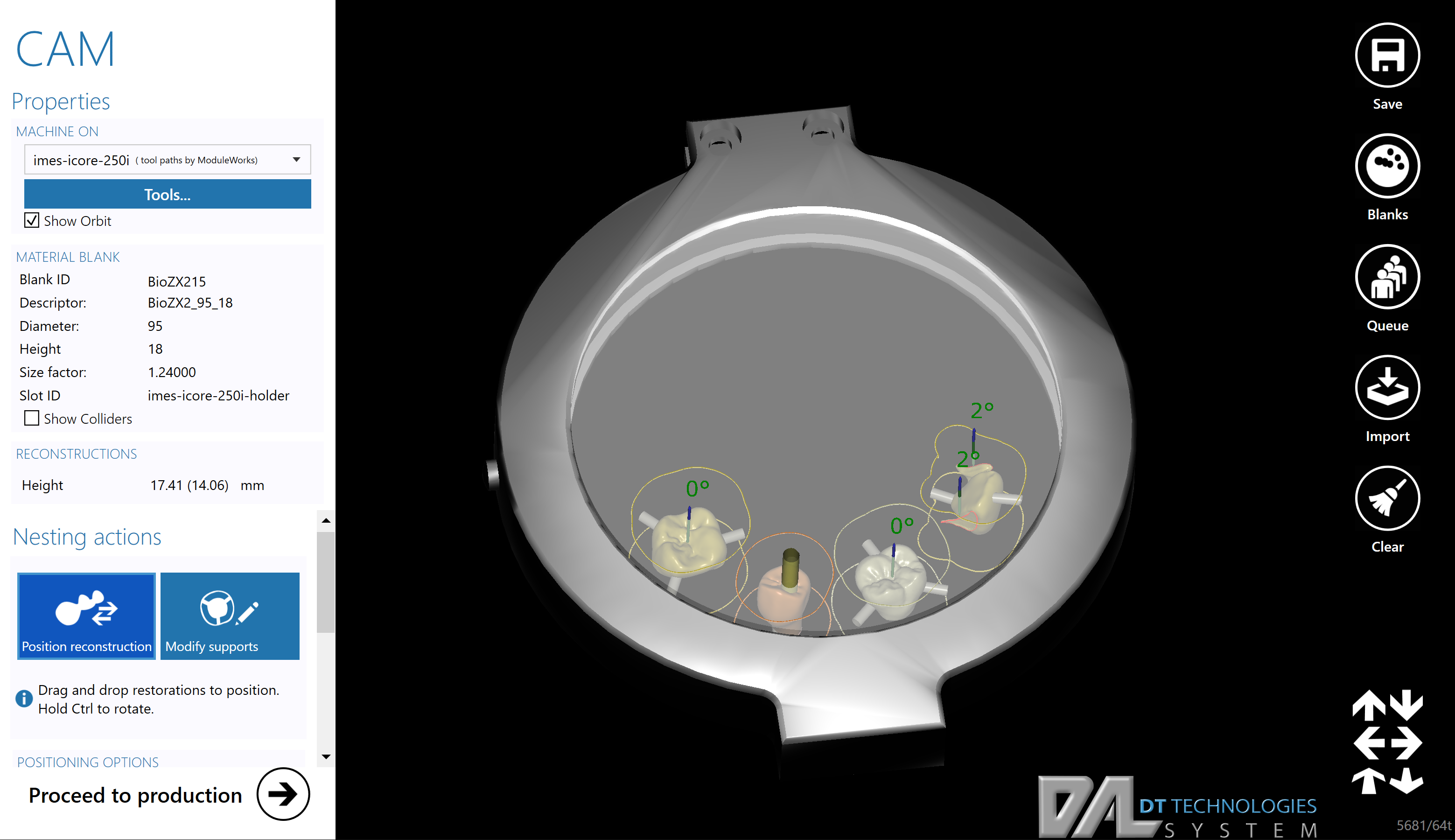 The exocad-exocam environment offers an open interface for loading CAD files designed in exocad (*.dentalCAD) or other CAD software (*.stl) to deliver a fully integrated dental CAM product that boosts efficiency, quality and productivity in dental labs and milling centers.
As Ryan Johnson, CTO of DAL, explains: "Teaming with ModuleWorks has resulted in many new benefits to our laboratories and our customers. The integrated CAM solution has both increased quality on routine and complex parts, as well as drastically reduced our calculation and milling times, saving everyone production time."
Jim Brown, DAL DT Technologies mill and installation technician, adds "We now have a fully integrated work flow for all of our users and customers. This integration provides users with a familiar interface, simplifies the nesting process and eliminates file transferring. Our customers benefit from the ease of use, and we benefit from the reduced training time. In the end, we have our users doing more with and benefiting from their investment at a faster pace, without sacrificing quality of the end restoration."
For more information about exocam powered by ModuleWorks, please see the factsheet and the latest videos on Youtube .
About ModuleWorks
ModuleWorks is a software component provider for the CAD/CAM industry. ModuleWorks' expertise in toolpath creation and simulation is recognized throughout the CAM industry and its software components and development services are used by the majority of the leading CAM vendors for industry focused solutions across diverse business sectors. ModuleWorks Dental Framework brings these benefits to the dental CAM industry. Already used by many leading Dental systems, the advanced 3-Axis, 4-Axis, 5-Axis and Simulation technology provides rapid toolpath calculation times, fast machining times and high quality results.
About DAL DT Technologies
DAL DT Technologies, the newest division of Dental Arts Laboratories, Inc. (DAL), is a provider of CAD/CAM equipment, materials and support to the dental laboratory industry. DT Technologies has partnered with many key companies in the dental industry, Medit, exocad, Roland, imes-icore and ModuleWorks, to offer easy to use, fully open CAD/CAM solutions. Additionally, DT Technologies is a North American distributor for Dental Direkt and the BioZX2 and CubeX2 Cubic zirconia materials. Over the last four years, laboratories across the United States and Canada have benefited from their CAD/CAM expertise and proven systems.