ECam is a 2D CNC programming system for fast and efficient g-code generation for lathe and vertical mill applications. To improve the performance and quality of its toolpath strategies, ECam has integrated ModuleWorks software components for 2-Axis toolpath generation and cutting simulation.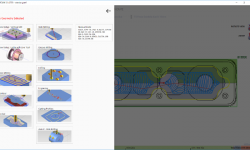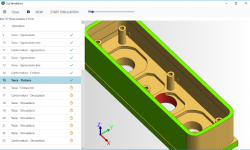 ModuleWorks toolpath generation component (left) and cutting simulation component (right) integrated in ECam
The ModuleWorks 2-Axis component provides powerful, efficient and safe toolpaths for milling and drilling applications. The versatile and easy-to-use component includes a broad range of basic and advanced features for roughing, finishing, engraving, face milling and drilling operations. The ModuleWorks Cutting Simulation component delivers high accuracy verification of stock removal for mill, turn and combined mill/turn applications and offers a full range of toolpath analysis tools to enable users to quickly identify and correct any potential problems.
The 2-Axis and cutting simulation components are designed for fast and seamless integration into existing CAD/CAM software to accelerate product development and time to market.
"The ModuleWorks components have brought huge improvements to the ECam toolpath strategies, leading to longer tool life and shorter machining cycles", explains Alessandro Cogo, Managing Director of ECam. "Fast and easy integration means ECam users benefit from the latest technology in a cost-effective 2D solution."
"It's great to see how our 2-Axis and cutting simulation components boost the quality and performance of ECam", says David Plater, Technical Director at ModuleWorks. "We look forward to a continued and successful cooperation that advances the 2-Axis technology of both companies."
About ModuleWorks
ModuleWorks is a software component provider for the CAD/CAM industry. ModuleWorks' expertise in toolpath creation and simulation is recognized throughout the CAM industry and its software components and development services are used by the majority of the leading CAM vendors for sophisticated industry focused solutions across diverse business sectors. ModuleWorks 5-Axis and Simulation software has been used in the manufacture of complex parts for over a decade and they have many users across the global CAD/CAM industry.
About eCam
ECam is a 2D CNC programming system for lathes and vertical mills. It is specially designed for fast and cost-efficient throughput of simple jobs and is suited for the shop floor environment, keeping only the essential parameters needed for creating the part. ECam has been commercially available since 2016 and has acquired hundreds of customers around the world.