At the S3PM 2017 International Convention on Shape, Solid, Structure and Physical Modeling (June 19 – 23, Berkeley, California, USA), Denys Plakhotnik of ModuleWorks and Jinesh Machchhar and Gershon Elber from the Technion Israel Institute of Technology won the best paper award in recognition of their outstanding contribution to the subject.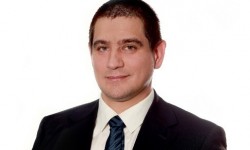 Dr. Denys Plakhotnik
Research Manager at ModuleWorks
The S3PM 2017 is a forum for high quality, original research contributions that advance the development of geometric and physical modeling and their application in design, analysis and manufacturing. The award winning paper from Jinesh Machchhar, Denys Plakhotnik and Gershon Elber presented a new computational framework that delivers a high precision simulation and verification for multi-axis CNC machining with arbitrary free form tools.
Until now, if a computational framework was general enough to accept tools of arbitrary shape, it did not deliver a high degree of precision; and if it delivered the desired precision, it imposed serious restrictions on the type of tools that could be used. The new framework solves the dilemma by using an innovative algebraic formulation with state-of-the-art constraint solvers that enable extremely high precision CNC machining simulation and verification for tools of different shapes. This new approach has important potential to increase the quality, efficiency and cost-effectiveness of multi-axis machining in diverse industries.
"It's great to receive this acknowledgment", says Dr. Marc Stautner, Director of Research at ModuleWorks. "It underlines ModuleWorks' ongoing commitment and contribution to cutting edge research and development with worldwide partners in academia and industry, and highlights the importance of international cooperative research projects for extending the possibilities and potential of CAM technology."
About ModuleWorks
ModuleWorks is a software component provider for the CAD/CAM industry. ModuleWorks' expertise in toolpath creation and simulation is recognized throughout the CAM industry and its software components and development services are used by the majority of the leading CAM vendors for sophisticated industry focused solutions across diverse business sectors. ModuleWorks 5-Axis and Simulation software has been used in the manufacture of complex parts for over a decade and they have many users across the global CAD/CAM industry.

For over 10 years, ModuleWorks has been actively involved in research on national and international publicly funded projects in cooperation with academic institutions and industry leading companies. The ModuleWorks team consists of experienced researchers from numerous disciplines including engineers, mathematicians and scientists.