Taking 3D Modeling Collaboration to a New Level
Spatial Corp, the leading provider of 3D software development toolkits (SDKs) for design, manufacturing, and engineering solutions, and a subsidiary of Dassault Systèmes, and ModuleWorks, the leading supplier of CAD/CAM software development toolkits for machining and simulation, have developed SDKs (aka software components) that offer CAD/CAM vendors complete workflow solutions for additive and hybrid machining.
For the past several years, both Spatial and ModuleWorks have enjoyed a successful cooperation and share a large customer base that benefits from the synergy between their SDKs. This cooperation between Spatial and ModuleWorks ensures fast and flexible integration of libraries from both companies into CAD/CAM applications, accelerating the development of advanced, cost-effective workflow solutions for their customers.
The powerful CGM Polyhedra SDK from Spatial Corp, and the launch of the new high-performance additive components from ModuleWorks, extends this cooperation into the field of additive and hybrid machining.
"We are looking forward to the launch of our new components for additive and hybrid machining," said Mathias Rohler, Product Manager for Additive and Hybrid Machining at ModuleWorks. "Spatial's CGM Polyhedra models provide excellent input data for our components. When used in combination, these libraries empower vendors with the tools they need to provide new, powerful, 3D printing solutions for end users."
"Our continued cooperation with ModuleWorks will further enable us to deliver an integrated software platform to empower 3D printing OEMs and ISVs to create a single, comprehensive application, covering all the additive manufacturing software tasks," said Ray Bagley, Product Manager for Modeling Products and Additive Manufacturing at Spatial. "This integrated solution combines the power of 3D InterOp, CGM Polyhedra, and ModuleWorks machining engines. Customers will be able to leverage this solution to deliver much more robust applications to their end users, improving their user experience and production efficiency, all while reducing their own risk and getting to revenue faster."
With sophisticated surface recognition and the powerful checking and healing capabilities, Spatial's CGM Polyhedra SDK delivers a precise, watertight mesh. This mesh, along with high-precision CAD data, can be passed to the high-performance ModuleWorks additive and hybrid manufacturing components to create complete, cost-effective workflows for high-quality additive and hybrid machining applications. The ModuleWorks additive software components offer toolpath calculation and simulation, as well as advanced nozzle and material definition, multiple STL capabilities, and automatic nesting.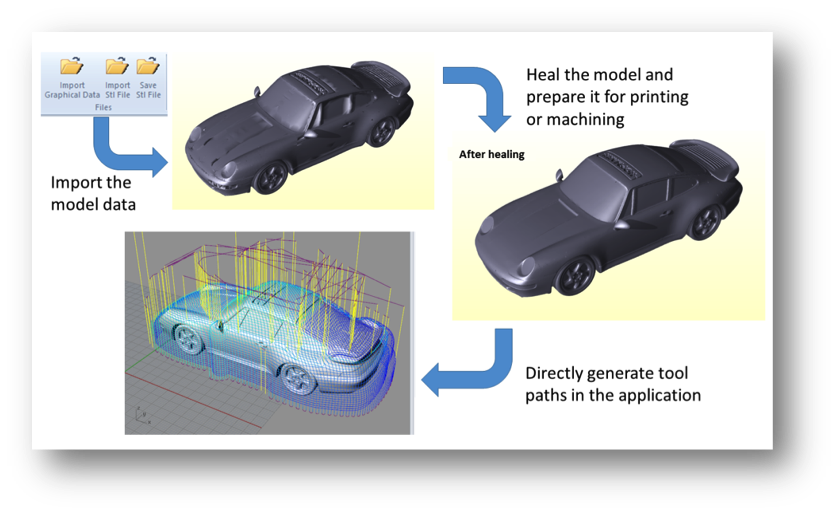 Example workflow combining Spatial's 3D InterOp and CGM Polyhedra, and ModuleWorks machining engines.
About ModuleWorks
ModuleWorks is a software component provider for the CAD/CAM industry. ModuleWorks' expertise in toolpath creation and simulation is recognized throughout the CAM industry and its software components and development services are used by the majority of the leading CAM vendors for sophisticated industry focused solutions across diverse business sectors. ModuleWorks 5-Axis and Simulation software has been used in the manufacture of complex parts for over a decade and they have many users across the global CAD/CAM industry. The new ModuleWorks components for additive and hybrid machining extend the proven ModuleWorks functionality to the field of 3D printing.
About Spatial
Spatial Corp, a Dassault Systèmes subsidiary, is the leading provider of 3D software development toolkits (SDKs) for technical applications across multiple industries. Spatial's 3D modeling, 3D visualization, and 3D interoperability SDKs help accelerate 3D innovation and expand what is possible. Customers are able to maintain focus on core competencies, while reducing cost and time-to-market. For over 30 years, Spatial's 3D SDKs have been adopted by many of the world's most recognized software developers, manufacturers, research institutes, and universities. Headquartered in Broomfield, Colorado, Spatial has offices in the USA, Germany, Japan, China, and the United Kingdom. For more information on Spatial, visit web, LinkedIn, Facebook, or Twitter.