ModuleWorks, the leading supplier of CAD/CAM software components for multi-axis machining and simulation, showcased its latest advances in CNC collision avoidance and next generation shop-floor programming technology at EMO 2017, 18-23 September in Hanover, Germany.
ModuleWorks was present with its largest ever stand and attracted attention with live demonstrations of its innovative CNC technology on industry leading controllers from FANUC and Siemens.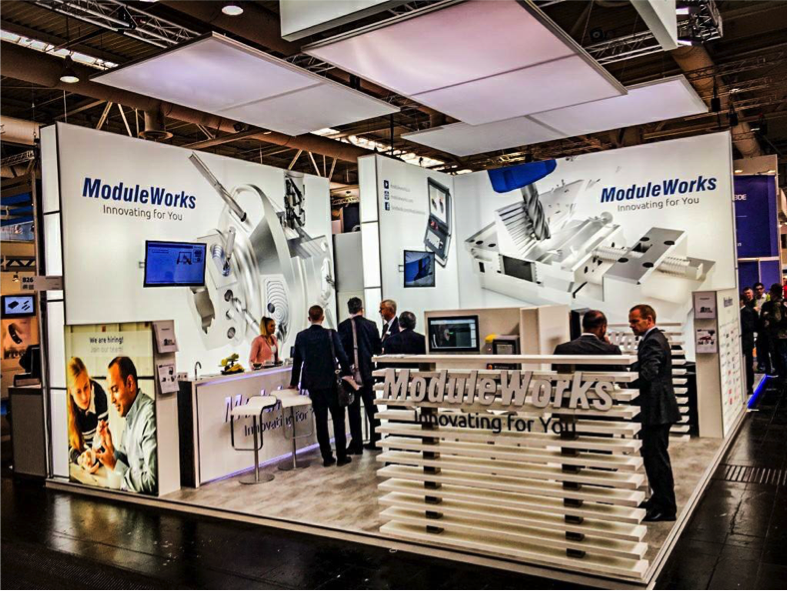 With more and more machine manufacturers recognizing the growing importance of real-time collision avoidance directly on the CNC control, the ModuleWorks Collision Avoidance System (CAS) is designed for fast and seamless integration into existing CNC systems for cost-effective and flexible project implementation on the latest controllers. ModuleWorks CAS provides full scene verification and clash detection during the milling and turning process in all operating modes, including jog mode, to minimize the risk of expensive machine damage and downtime and to optimize the machining process.
ModuleWorks Shop Floor Programming is a fast and easy way to extend production machines with advanced cycles for adaptive roughing and turn-milling as well as features such as deburring and automatic machining to create a highly flexible and efficient production environment. Optimized toolpath technology with 3D import for solid models and automatic and easy selection modes provide an innovative user experience for 3D machining.
For fast and efficient machine tool set-up, the ModuleWorks Machine Tool Builder offers an intuitive graphical interface for building machine kinematics, reducing time-to-market for adopters of the ModuleWorks CAS.
"This was our biggest exhibition presence to date and we are delighted by the enthusiastic reception of our latest CNC technology", says Yavuz Murtezaoglu, Managing Director of ModuleWorks. "It confirms and strengthens our position at the forefront of CAM innovation. We are looking forward to working together and extending our technology with many new partners as a result of the EMO 2017".
About ModuleWorks ModuleWorks is a software component provider for the CAD/CAM industry. ModuleWorks' expertise in toolpath creation and simulation is recognized throughout the CAM industry and its software components and development services are used by the majority of the leading CAM vendors for industry focused solutions across diverse business sectors. Already integrated on leading CNC controllers, ModuleWorks CNC Simulation brings advanced real-time simulation and collision avoidance to the shop floor.