ModuleWorks, the leading supplier of CAD/CAM software components for machining and simulation, announces an agreement with Siemens PLM Software in the area of advanced CAM technology.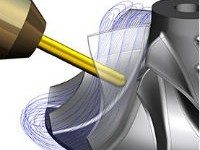 ModuleWorks is providing and further developing advanced CAM programming technology to be integrated into the Siemens' NX™ software, a leading integrated solution for computer-aided design, manufacturing and engineering (CAD/CAM/CAE). The close working arrangement with Siemens PLM Software covers topics that range from core CAM processing, general 3x and 5x milling to focused complex applications.

"ModuleWorks' proven software technology can help us to add valuable new capabilities to the NX CAM system, and to do so very quickly, helping us to provide faster, easier programming and increased machining efficiencies." said Vynce Paradise, Director of Advanced Part Manufacturing for Siemens PLM Software. "The benefits of this partnership are already available to thousands of existing NX CAM users. We will continue to collaborate closely with the ModuleWorks team on requirements for extended functionality and on special projects."

"It's very rewarding to see how our technology contributes to one of the leading CAM systems," says Yavuz Murtezaoglu, Managing Director of ModuleWorks. "We are excited by the opportunity to work with Siemens PLM Software and to have our technology deployed by an industry leader. We look forward to a continued and successful cooperation and to further advances in the technology."
About ModuleWorks
ModuleWorks is a software component provider for the CAD/CAM industry. ModuleWorks' expertise in toolpath creation and simulation is recognized throughout the CAM industry and its software components and development services are used by the majority of the leading CAM vendors for sophisticated industry focused solutions across diverse business sectors.
Note: NX is a trademark or registered trademark of Siemens Product Lifecycle Management Software Inc. or its subsidiaries in the United States and in other countries.