Huron has chosen ModuleWorks collision avoidance software for its new PreciPROTECT collision avoidance system. The ModuleWorks components run directly on the Siemens Sinumerik 840D SL CNC control and enable Huron to provide real-time collision avoidance for its new K3X8-Five and 0KX50L 5-axis vertical machines.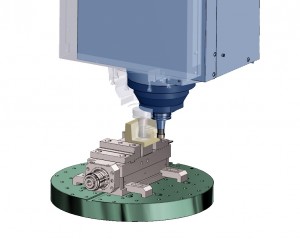 The Huron PreciPROTECT system on the Siemens Sinumerik 840D SL CNC control.
The ModuleWorks software takes the real axis positions, machine geometries and workpiece position and uses the same motion data as the real servos to provide a fully integrated and visually realistic simulation of the machine kinematics, tools, jaws, clamps and fixtures as well as the material removal process. Collision detection and avoidance is available in both auto and jog modes using look-ahead motion data. If a collision is detected, the machining process is stopped before an actual collision occurs to prevent expensive machine damage and downtime.
"The ModuleWorks software enables us to offer a sophisticated, state-of-the-art collision avoidance system that protects our new 5-axis machines from expensive damage", explains Bernard Echevard General Manager at Huron. "Our customers benefit from a more efficient and cost-effective production process with reduced risk of downtime and stock wastage."
"More and more machine manufacturers are recognizing the need to offer real-time collision avoidance systems for their milling and turning machines", says Mark Foti, Product Manager for the ModuleWorks Collision Avoidance System. "It's great to see that ModuleWorks components are the solution of choice for industry-leading multi-axis machines."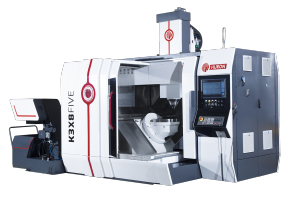 Huron and ModuleWorks at EMO 2017
The new Huron PreciPROTECT system based on the ModuleWorks collision avoidance technology will be showcased at EMO, 18-23 September 2017 in Hannover, Germany (Huron booth, Hall 27 / Booth D28 ).

About ModuleWorks
ModuleWorks is a software component provider for the CAD/CAM industry. ModuleWorks' expertise in toolpath creation and simulation is recognized throughout the CAM industry and its software components and development services are used by the majority of the leading CAM vendors for sophisticated industry focused solutions across diverse business sectors. ModuleWorks 5-Axis and Simulation software has been used in the manufacture of complex parts for over a decade and they have many users across the global CAD/CAM industry.
About Huron Graffenstaden
Huron Graffenstaden produces a wide range of milling and turning solutions dedicated to machining by chip-removal. Recent decades have been marked by the development and production of innovative machine tools which have forged the company's reputation after having established the name 100 years ago with the first universal 5 axes head.
The current range aims to satisfy the most varied requirements. From unique models to small and medium-sized production runs, as well as all aluminum and exotic material for milling or turning. The "All-in-One" concept meets the expectations of our most demanding customers.
From small vertical centres to large-sized machines with their palletizing system, Huron is confirming its creative ambitions to enable customers to enjoy a complete production tool at a particularly low productivity cost.