ModuleWorks, the leading supplier of CAD/CAM software components for machining and simulation, and EXAPT Systemtechnik GmbH, the specialist for CAD/CAM solutions and tool management, have extended their partnership.
ModuleWorks and EXAPT Systemtechnik have enjoyed a successful partnership since 2005. EXAPT already uses the ModuleWorks 3-Axis, 5-Axis and cutting simulation technology and has now added the ModuleWorks machine simulation component to strengthen its offering with the latest toolpath analysis and optimization software as well as advanced collision avoidance algorithms.
The ModuleWorks machine simulation component is a full kinematic machine simulation software for multi-axis milling, turning, CMM, robotic, woodworking and dental applications. The extensive library of machine kinematics provides support for almost every kinematic combination, which also enables the development of tailor-made applications. EXAPT has fully integrated this strategy into its own system and thereby enhanced its proven programming possibilities. Gouge, collision and clash detection as well as stock visualization and measurement of machined stock provide comprehensive error detection and empower the EXAPT system with a reliable simulation and visualization of different processing scenarios.
"We are very pleased to extend our partnership with ModuleWorks", says Dr. Arndt Richter, Managing Director of EXAPT. "The ModuleWorks machine simulation software offers best-in-class simulation, toolpath analysis and error detection and is the logical extension to our existing software offering. Easy integration ensures fast time to market and enables us to deliver cost-effective, state-of-art solutions to our customers."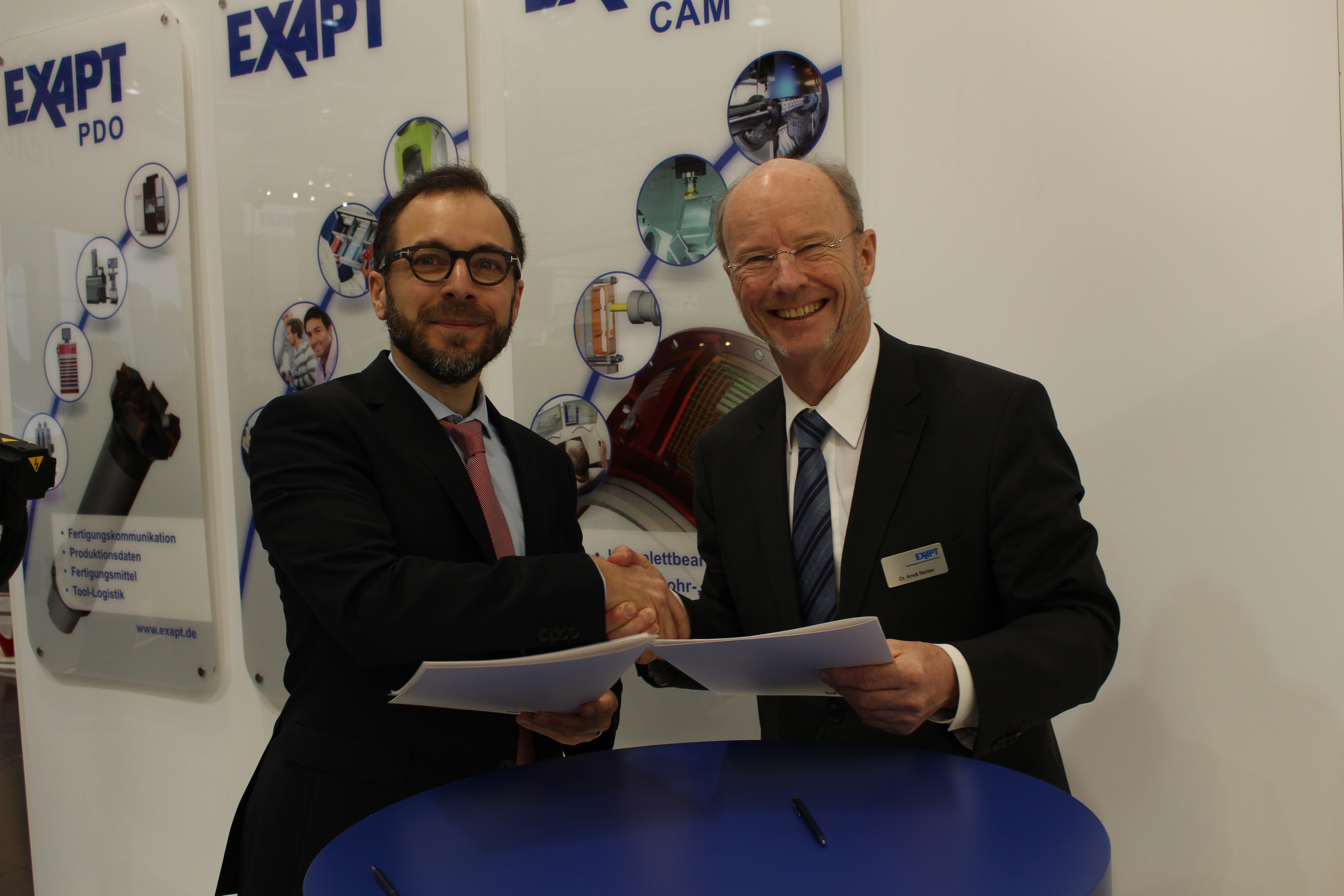 Contract closing between EXAPT and ModuleWorks at METAV 2016
About EXAPT For almost 50 years, EXAPT Systemtechnik GmbH has been one of the most successful solution providers for CAD/CAM and tool management systems that are used around the world. The main focus is the technologically oriented combination of 2D and 3D turning, drilling and milling processes. EXAPT offers full support for both complex and simple kinematic and organizational processes. The connected CAM system with integrated tool management provides process support from the stock and the tool-life-cycle-management system to the machine. A data pool provides the information necessary for efficient process management and a successful 4.0 strategy. Extensive industry experience ensures optimal implementation, installation and support for the EXAPT systems, including tailor-made solutions and long-term service.
About ModuleWorks ModuleWorks is a software component provider for the CAD/CAM industry. ModuleWorks' expertise in toolpath creation and simulation is recognized throughout the CAM industry and its software components and development services are used by the majority of the leading CAM vendors. ModuleWorks 5-Axis and Simulation software has been used in the manufacture of complex parts for over a decade and they have many users across the global CAD/CAM industry.