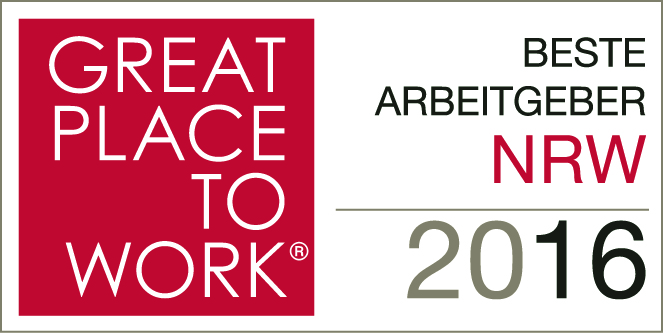 For the third successive year, ModuleWorks, the leading supplier of software components to the CAD/CAM industry, has been awarded the title "Great Place to Work". In the survey of companies in the German state of North Rhine-Westphalia, ModuleWorks is recognized as one of the top 40 employers.
Great Place to Work® is a global research, consulting and training consultancy that helps organizations identify, create and sustain great workplaces through the development of high-trust workplace cultures. The award is presented to businesses based on an employee survey concerning central topics such as leadership, teamwork, professional development and life balance.
156 companies representing all business sectors in the German state of North Rhine-Westphalia entered the competition. Based on the employee surveys, the top 40 companies received the title "Great Place to Work". The award adds to the two national awards ModuleWorks received in 2014 and 2015 for the IT sector.
"We are delighted to receive this award in one of the most important industrial and economic regions in Europe", says Jens Beissel, Marketing & HR Manager at ModuleWorks. "It is particularly rewarding to be recognized as one of the top employers across all business sectors. It reflects our positive work culture and shows we are on the right track for creating increasingly attractive work conditions. We have also taken part again in the national survey and look forward to further underlining our growing reputation as a Great Place to Work".
Further information about the competition is available at:
www.greatplacetowork.de
About ModuleWorks ModuleWorks is a software component provider for the CAD/CAM industry. ModuleWorks' expertise in 5-Axis Machining and Simulation is recognized throughout the CAM industry and its software components and development services are used by the majority of the leading CAM vendors. ModuleWorks 5-Axis and Simulation software has been used in the manufacture of complex parts for over a decade and they have many users in the global CAD/CAM industry.