ModuleWorks, the leading supplier of CAD/CAM software components for machining and simulation, announces that 3D Systems (NYSE: DDD) has extended its Cimatron® and GibbsCAM® software capabilities with ModuleWorks geodesic and deburring technology. The ModuleWorks technology enables 3D Systems to offer enhanced workflows that increase the quality and efficiency of 5-axis machining.
3D Systems already uses ModuleWorks' 5-axis software components for 5-axis continuous advanced toolpath generation and this latest integration project extends the ongoing and successful partnership between the two companies.
The ModuleWorks geodesic machining toolpath processor is the next evolution in pattern generation. It uses a global distance field without a fixed direction to provide full flexibility for calculating different pattern types while maintaining consistent distances between the cuts for improved surface quality, even in undercut situations. At the core of the processor is the innovative distance field which enables advanced features for automatically creating guide curves based on the input geometry as well as collision-free pattern generation even in sharp inner corners and strongly curved areas with multiple surface patches. 
Intelligent features such as boundary detection for guide and containment curves as well as extensions and hole-filling further optimize the efficiency and quality of the machining process.
3D systems has integrated the ModuleWorks deburring component to help accelerate the finishing process. ModuleWorks' automatic feature detection, linking, lead-in and collision avoidance enable users to simply select the part geometry, and the ModuleWorks software automatically creates the deburring toolpath along the outer edges.
"The ModuleWorks geodesic and deburring components expand the capabilities of our industry-leading Cimatron and GibbsCAM software," said Roy Sterenthal, vice president, software, 3D Systems. "With these enhancements, our customers are able to improve machining efficiency and produce parts with enhanced surface quality."
"It's great to see how our software components continuously advance the technology of our partners," says Yavuz Murtezaoglu, Managing Director of ModuleWorks. "We look forward to our continued successful cooperation and to further developments in the technology."
The 3D Systems Cimatron and GibbsCAM software with integrated ModuleWorks geodesic and deburring technology is planned for general release in 2019. A preview was shown at 3D Systems' software booth at IMTS 2018, 10-15 September, Chicago, USA.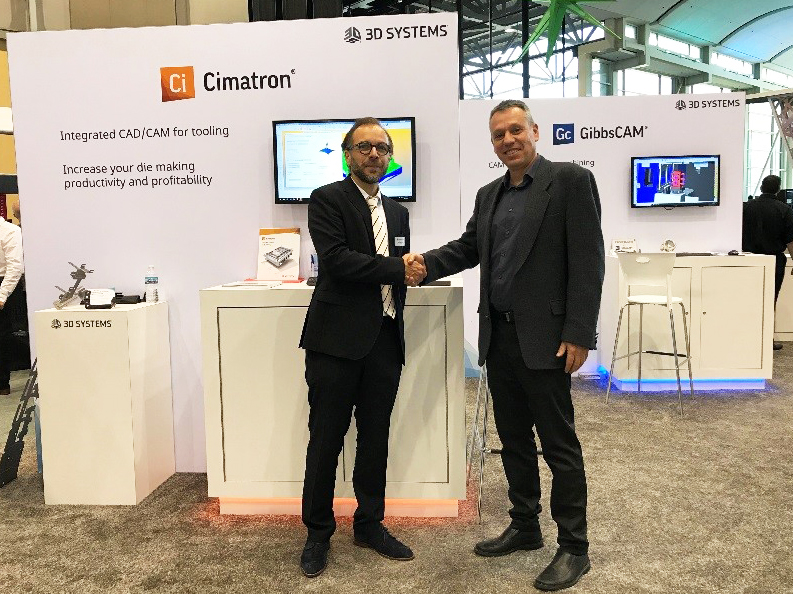 3D Systems is the originator of 3D printing and an innovator of future 3D solutions. It has spent its 30-year history enabling professionals and companies to optimize their designs, transform their workflows, bring groundbreaking products to market and drive new business models. This is achieved with the Company's best of breed digital manufacturing ecosystem. It's comprised of plastic and metal 3D printers, print materials, on demand manufacturing services and end-to-end manufacturing software solutions. Combinations of these products and services address a variety of advanced applications- ranging from Aerospace, Automotive, and Consumer Goods to Medical, Dental, and Jewelry. For example, 3D Systems' precision healthcare capabilities include simulation, Virtual Surgical Planning, and printing of medical and dental devices as well as patient-specific surgical instruments.
www.3dsystems.com.
ModuleWorks is the leading software component provider for the CAD/CAM industry. With over 170 employees and 700 man years of software development, ModuleWorks' expertise in toolpath creation and simulation is recognized throughout the industry and its software components are integrated in over 500,000 installed seats of CAD/CAM software around the world. From standard products to exclusive development projects, we work closely together with you to bring your own vision of Industry 4.0 to life. Our comprehensive product portfolio and cutting-edge software components enable you to optimize your CAD/CAM solutions and connect to CNC/MTB systems to increase your competitiveness and help you Get There Faster.