ModuleWorks, the leading supplier of CAD/CAM software components for machining and simulation, successfully tested its latest calculation strategies for rotary and geodesic machining using a barrel mill tool for accelerated, high quality finishing.
The trial was conducted at the Hommel and Okuma Technology Center in Langenau, Germany on an OKUMA MULTUS-B200W Multitasking CNC machine with MMC Hitachi Tool standard stock items, including barrel mill tools. The selected workpiece was a spiral mandrel distributor that provided a realistic and technically sophisticated challenge for the new multi-axis milling algorithms.
A key focus of the trial was to test the new barrel mill machining strategies for pre-finishing the walls of the workpiece. The barrel shape of the tool generates smaller cusps and delivers a high-quality surface finish while using large step overs that significantly accelerate the machining process. Using a taper barrel tool optimizes performance further because the walls can be machined using the large barrel section of the tool and the inner corners using the tip.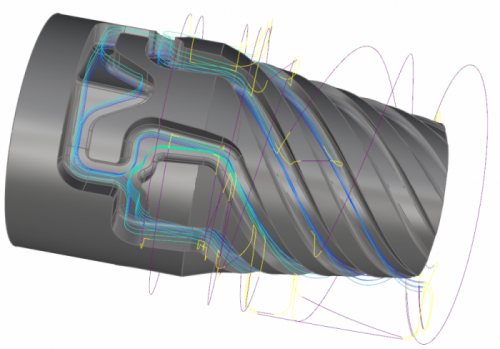 ModuleWorks semi-finishing toolpath with a barrel mill tool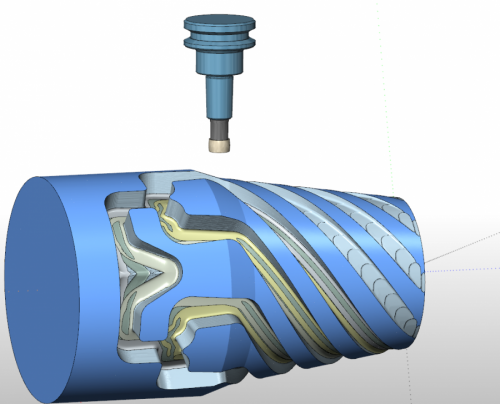 ModuleWorks simulation with material removal
Deburring was performed using the ModuleWorks deburring cycle that automatically creates a toolpath for spherical tip tools along all sharp edges of a workpiece. This saves a lot of time and effort because machine operators no longer need to manually adjust the conventional generic toolpath strategies. Instead, operators select the entire workpiece and the algorithm automatically finds the edges and applies automatic tilting to calculate a collision-free toolpath.
"Multi-axis rotary machining is technically very challenging, and it's exciting to see how our new toolpath strategies for barrel mill tools significantly enhance both the efficiency and the quality of the machining process", says David Plater, Technical Director at ModuleWorks. "This trial demonstrates the effectiveness and potential of the technology and provides the foundation for continued improvements and future developments."
Click here to see a video of the trial.
About ModuleWorks
ModuleWorks is a software component provider for the CAD/CAM industry. ModuleWorks' expertise in toolpath creation and simulation is recognized throughout the CAM industry and its software components and development services are used by the majority of the leading CAM vendors for sophisticated industry focused solutions across diverse business sectors. ModuleWorks Multi-Axis and Simulation software has been used in the manufacture of complex parts for over a decade and they have many users across the global CAD/CAM industry.