ModuleWorks, the leading supplier of CAD/CAM components for toolpath generation and simulation, announces the latest release of its CAM components, ModuleWorks 2017.04, the first major update of 2017. Each ModuleWorks release contains many new and enhanced features across the product range. This latest version includes new features for 5-Axis, 3-Axis, TurnMill, Turning and Simulation.
ModuleWorks is at the forefront of 5-Axis machining and simulation technology, providing the toolpath and simulation technology that powers many of the leading CAM systems available around the world today.
Highlights of the new release are shown below:
TurnMill
This new, almost fully automated cutting process combines two conventional machining operations: turning and milling. This new process increases productivity by reducing the amount of tool wear and by helping to break chips. It can be applied to large workpiece geometries and material that is difficult to machine.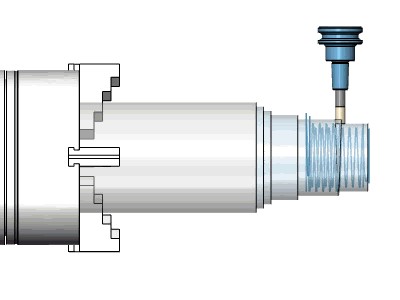 5-Axis Machining
Greater tilt angle control
The new tool axis control feature provides greater control over the range of tilt during machining by allowing the tilt angle to be controlled relative to a fixed rotation axis. Users define the start angle and the end angle. Along the toolpath, the tool gradually changes the tilt angle between the start and the end angle. This ensures that the tool stays clear of the blade root.
Linking
The new linking feature enables two contours to be linked with a new blend spline. In the event of a detected collision, the blend spline is extended to ensure the main shape is not disturbed and to guarantee a smooth transition. It also makes sure that:
• the dimensions of the spline are limited to an extended boundary of the part
• the air-move safety distance is always obeyed.
3-Axis Machining
Default lead-outs for offset roughing
This feature creates lead-out segments to avoid grinding between the tool and the part during retraction and to prevent shatter marks.
2-Axis chamfering
This new machining type enables users to create chamfer and deburring toolpaths for processing sharp edges and deburring operations.
Turning
The roughing and finishing strategies can now be used to process inner surfaces.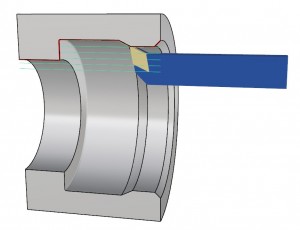 Simulation
Analysis of remaining material
This new analysis shows the remaining material in two colors, one for climb and one for the conventional cutting direction, for easy analysis at a glance.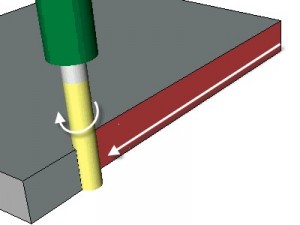 Move list
The Move List in the Machine Simulator offers new, enhanced functionality:
• Add comments
• Axis values are displayed in columns separated by comments
• Hide/show comments and move values
• Customize the position and visibility of the columns
• Additional options: Auto-resize Columns and Reset to Default.
New MultiXPost user interface
The new MultiXPost user interface offers improved product integration and enhanced usability for end-users.
See the ModuleWorks YouTube videos for more details.