ModuleWorks announces its Next Generation Shopfloor Programming (NGSP) software that enables machine tool builders and CNC manufacturers to offer highly automated touchscreen programming as part of their proprietary on-control solutions.
"A lot of parts, especially prismatic parts, are programmed directly on the CNC and we aim to help machine tool builders and controller manufacturers simplify and speed up the programming process with intelligent touch-screen solutions that assist operators as much as possible."
Soroosh Eghbali, Head of Business – CAM Automation at ModuleWorks
Built upon the ModuleWorks toolpath calculation and simulation technology and integrated directly into the CNC, ModuleWorks NGSP brings the graphic touchscreen environment of automated programming to the shopfloor, enabling machine tool operators to quickly build, simulate and run NC programs without in-depth knowledge of G-code programming. Because it is embedded in the control, NGSP has access to the tool library and physical parameters of the individual machine tool. This enables NGSP to apply automatic decision-making to guide operators through the setup procedure and assist with the tool selection, machining strategy and optimal cutting parameters for each job to speed up programming and increase the competitiveness of machine shops that work with fast cycles and short lead-in times.
"We worked in close consultation with machine tool builders and CNC manufacturers to develop an innovative 3D programming solution that helps machine shops cope with the demands of fast-cycle manufacturing. We're excited about the release of NGSP and look forward to deploying it via our industry partners."
Sebastian Viebach, Product Manager at ModuleWorks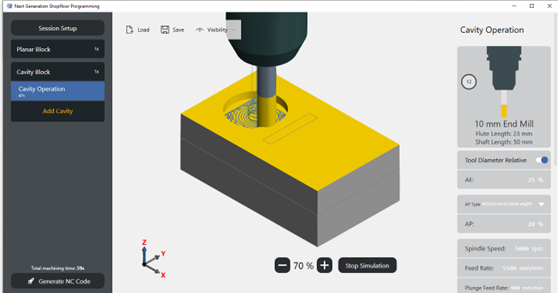 ModuleWorks touch-screen on-control programming
NGSP takes a 3D CAD model as input and displays the target workpiece and the initial stock geometry on the CNC screen. Human-assisted feature detection identifies geometries such as channels, pockets and holes and an initial toolpath is calculated and shown on the model. The system guides users through the programming sequence and each operation removes part of the stock all the way to the roughing and finishing cycles. Built-in intelligence analyzes the geometry together with the required machining strategy and automatically recommends the appropriate tool and cutting parameters. Touching an operation block at any time opens menus to adjust parameters and select different tools and machining strategies if desired. The toolpath instantly updates each time a new setting is selected.
The combination of touch-screen selection, human-assisted feature detection and intelligent decision-making eliminates many of the time-consuming and error-prone steps of conventional on-control programming. In benchmark tests conducted by ModuleWorks, programming a sample part with NGSP was 70% faster than a conventional conversational programming system.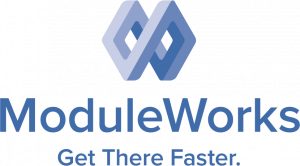 ModuleWorks is the leading software component provider for the digital manufacturing industry. With over 200 employees and 1000 person-years of software development, ModuleWorks' expertise in toolpath creation and simulation is recognized throughout the industry and its software components are already optimizing the performance and quality of over 500,000 installed seats of CAD/CAM and CNC software around the world. From standard products to exclusive development projects, ModuleWorks helps companies to bring their vision of Industry 4.0 to life. With its comprehensive portfolio of cutting-edge software components, ModuleWorks enables its customers to optimize their CAD/CAM solutions and connect to CNC/MTB systems to increase their competitiveness and help them Get There Faster.