ModuleWorks announces the creation of three new senior positions as well as the successor to Heiko Weber, former Head of Digital Manufacturing.
Continued growth has led to the creation of new positions which will enable ModuleWorks to deliver more highly integrated business and technology solutions to its customers.
New appointments in the ModuleWorks Business Areas.
From left to right: Sebastian Wallraff (Head of Technology – Digital Manufacturing); Julia Meyer-Hendricks (Head of Business Development – Digital Manufacturing); Fabian Tarara (Head of Business Development – Digital Factory); Ben Weber (Head of Strategic Partnerships – CAM Automation & Digital Dentistry)
Digital Manufacturing
Constant advances in the ModuleWorks 3-axis and 5-axis toolpath generation and simulation software continue to add value to CAM applications. Furthermore, the latest innovations for adaptive roughing, deburring and 3+2 machining are expected to generate even more value in future years. The ModuleWorks Digital Manufacturing business area concentrates on further developing this core technology which is used throughout the CAM and PLM enterprise industries.
The new Head of Technology – Digital Manufacturing is Sebastian Wallraff, who succeeds Heiko Weber. Mr. Wallraff has in-depth knowledge in applied manufacturing and toolpath technology, having worked for ModuleWorks for more than 15 years.  
Julia Meyer-Hendricks joined ModuleWorks in 2013 and has a rich background in Sales and Account Management. She will partner Mr. Wallraff as Head of Business Development – Digital Manufacturing.
Digital Factory
This business area is dedicated to CNC manufacturers and machine tool builders. Recent years have seen significant expansion in the range of software available on CNC controllers, including simulation, toolpath creation and even full collision avoidance systems. This trend is expected to continue as the processing power of CNCs increases and the expectations of users grow. Machine tool builders are also looking to provide complete solutions to end users, including appropriate software to drive the machines. ModuleWorks Digital Factory addresses these needs with an effective combination of component technology and bespoke development.
Mark Foti, Head of Technology – Digital Factory, will team up with Fabian Tarara, the new Head of Business Development – Digital Factory. Mr. Tarara has been with ModuleWorks for 9 years and has a strong sales and business background in building long-term working relationships and delivering successful solutions to companies in this market segment.
CAM Automation & Digital Dentistry
This business area focusses on automating and optimizing CAM workflows with customized, plug and play self-driving CAM solutions. The application areas of this technology can range from traditional engineering areas to specific verticals which value from automated manufacturing.
Over the last 15 years, digital dentistry has grown into an established and important market utilizing CAD/CAM technology. Providing a combination of powerful technology and fully customized solutions tailored to the individual requirements of each partner, ModuleWorks has become one of the major players in this market.
The Head of Business – CAM Automation & Digital Dentistry is Soroosh Eghbali. He is now partnered with Ben Weber as the new Head of Strategic Partnerships – CAM Automation & Digital Dentistry. Mr. Weber joined ModuleWorks 7 years ago and has supported customers on a variety of successful projects thanks to his valuable experience as a Key Account Manager and Sales professional.
Additive & Process Technologies
The additive market continues to grow, which is why ModuleWorks created a new business area to focus on the specific requirements of this market. Additive manufacturing places special demands on software, some of which can be met with conventional CAM technology and some of which require the development of new solutions. The ModuleWorks Additive & Process Technologies business area, which also includes robotics and ultra-precision machining, develops and delivers solutions that support this growing industry.
Lothar Glasmacher continues as Head of Additive and Process Technologies. Mr. Glasmacher joined ModuleWorks in 2014 as Project Director and has been heavily involved in developing and delivering solutions for a wide range of applications in different industries, including the medical industry, additive and hybrid manufacturing, milling and diamond-based cutting.
These new appointments of Heads of Business Development alongside the Heads of Technology will enable ModuleWorks to better address the market-specific requirements for new technologies and provide a higher level of industry-focused products and services that address the business as well as the technology requirements of its customers.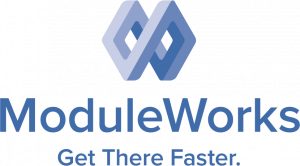 ModuleWorks is the leading software component provider for the digital manufacturing industry. With over 200 employees and 1300 person-years of software development, ModuleWorks' expertise in toolpath creation and simulation is recognized throughout the industry and its software components are already optimizing the performance and quality of over 500,000 installed seats of CAD/CAM and CNC software around the world. From standard products to exclusive development projects, ModuleWorks helps companies to bring their vision of Industry 4.0 to life. With its comprehensive portfolio of cutting-edge software components, ModuleWorks enables its customers to optimize their CAD/CAM solutions and connect to CNC/MTB systems to increase their competitiveness and help them Get There Faster.