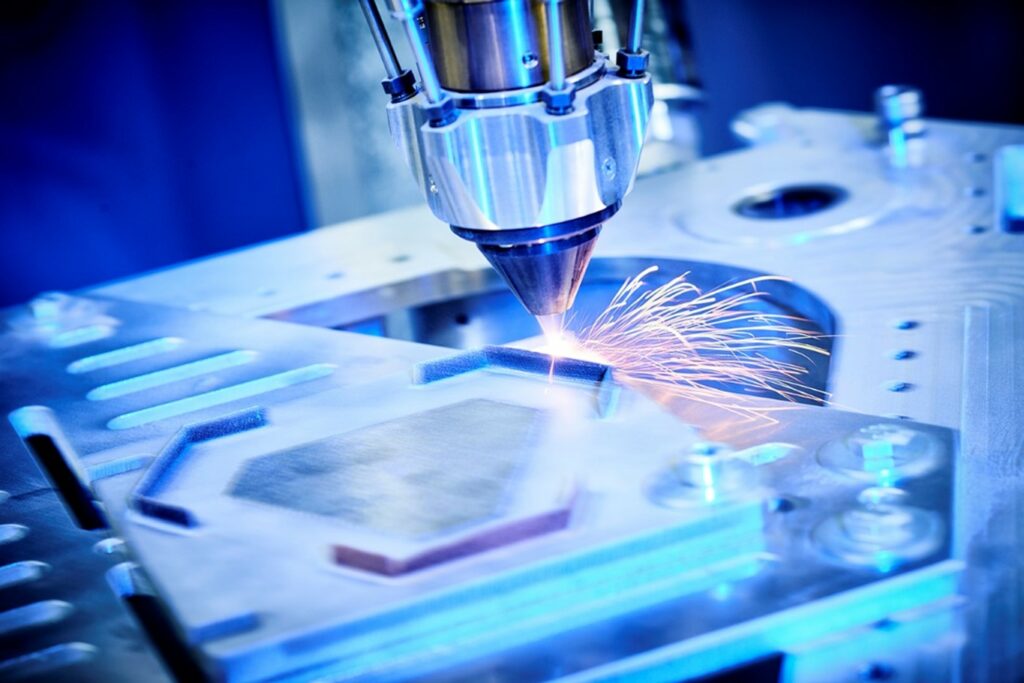 Innovative coating and additive manufacturing processes thanks to collaboration between ponticon and ModuleWorks.
Ponticon develops highly dynamic machines and processing concepts for the 3D EHLA process. ModuleWorks specializes in the development of software libraries for tool path generation and simulation for laser cladding processes. The two companies have collaborated to develop tool path planning software that meets the special requirements of the EHLA process and generates tool paths optimized to the ponticon machine environment.
Until now, a major limitation of laser cladding has been the inability to combine high productivity with high precision. This limitation has now been resolved for the first time by using the 3D EHLA process on the ponticon pE3D system. The extreme high-speed laser cladding process (EHLA), originally developed at the Fraunhofer Institute for Laser Technology ILT, is used for coating and additive manufacturing of highly stressed metallic components.
Since the start of their partnership in October 2021, ponticon and ModuleWorks have been working closely together to develop a tool path generation system that meets the high dynamics of 3D EHLA. The application of thin layers at high process speeds of up to 200 m/min with flexible material selection requires process control during tool path or NC code generation. Through ModuleWorks' experience with laser cladding, ponitcon benefits from a process-optimized configuration of the ModuleWorks Multi-Axis-Additive Module (LAM), which ensures a constant process speed on the pE3D system. Thus, 3-axis and 5-axis machine models were created very quickly and process-specific machining strategies were implemented to demonstrate the manufacturability of a wide variety of 3D components.
The ModuleWorks path planning and kinematic calculations allow highly dynamic and precise 3-axis and 5-axis machining, which is required to produce complex components. The ModuleWorks post-processing framework streams direct NC output with over 50,000 path points per second to the machine's CNC. NC code can also be generated by edge computing.
As a result of the collaboration, ponticon is able to meet its customers' individual requirements for a laser cladding system that offers excellent precision at extremely high machining speeds and acceleration. As Dr. Tobias Stittgen, managing director of ponticon GmbH explains: "Our end customers in industry and academic research benefit from a powerful CAM system that has already been proven in numerous industrial applications in the field of laser cladding. Adaptations to the unique selling points of our 3D EHLA process are carried out with low effort and under consideration of process-specific boundary conditions thanks to the unique architecture of the ModuleWorks software."
Lothar Glasmacher, Head of Business Additive and Process Technologies, sums up the collaboration with the following words: "The customer-focused approach is reflected in ponticon's innovative machine concepts. The interaction of unique path planning software and precise, highly dynamic machine technology, especially in the 5-axis range, results in high accuracy with maximum dynamics and machining speed."
Further cooperation between the two companies includes plans to connect process databases and implement multi-material capability to fully exploit the possibilities of the 3D EHLA process in a user-friendly manner.
ponticon GmbH is a dynamically growing company and establishes 3D-EHLA technology in the industrial and academic environment with innovations "Made in Germany". For this purpose, the entire team supports customers with extensive know-how in the field of coatings, additive manufacturing and materials science. With its solutions, ponticon makes an important contribution to higher productivity, increased resource efficiency and more flexibility for the production of tomorrow. At the same time, customer products benefit from improved application properties.
ModuleWorks GmbH is the leading software component provider for the digital manufacturing industry. With over 200 employees and 1300 person-years of software development, ModuleWorks' expertise in toolpath creation and simulation is recognized throughout the industry and its software components are already optimizing the performance and quality of over 500,000 installed seats of CAD/CAM and CNC software around the world. From standard products to exclusive development projects, ModuleWorks helps companies to bring their vision of Industry 4.0 to life. With its comprehensive portfolio of cutting-edge software components, ModuleWorks enables its customers to optimize their CAD/CAM solutions and connect to CNC/MTB systems to increase their competitiveness and help them Get There Faster.