ModuleWorks, the leading supplier of CAD/CAM software components for machining and simulation, and PTC (NASDAQ: PTC) have developed an integrated material removal simulation for the PTC Creo product development software suite.
The integrated ModuleWorks components enable PTC to offer state-of-the-art material removal simulation and verification as part of the PTC Creo Parametric software. The simulation window is implemented directly in the PTC Creo user interface to ensure a familiar look and feel for end users.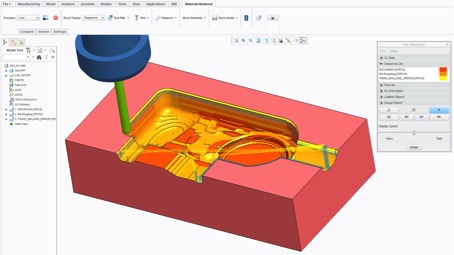 The ModuleWorks simulation technology provides multi-axis milling and turning simulation with gouge and deviation analysis as well as collision checking and manual or automatic refinement of the simulation result. Workpiece coloring according to the sequence or the tool provides enhanced visual analysis at a glance. The resulting triangulated model is available to the rest of the PTC Creo suite for seamless and efficient product analysis and development.
Commenting on the integration project, David Plater, Technical Director at ModuleWorks says "The results of this project highlight the benefits of close collaboration to develop an integrated simulation in a CAM system. Over the coming years I am sure we will see even greater benefits from this cooperation and the advancement of the technology."
And as Jose Coronado, PTC Creo Product Manager explains, "Excellent communication between the project teams allowed a flexible, open and agile approach that has enabled us to greatly accelerate the development of our PTC Creo Manufacturing tools by adding this outstanding material removal simulation functionality."
About ModuleWorks
ModuleWorks is a software component provider for the CAD/CAM industry. ModuleWorks' expertise in toolpath creation and simulation is recognized throughout the CAM industry and its software components and development services are used by the majority of the leading CAM vendors for sophisticated industry focused solutions across diverse business sectors. ModuleWorks 5-Axis and Simulation software has been used in the manufacture of complex parts for over a decade and they have many users across the global CAD/CAM industry.
About PTC
PTC (NASDAQ: PTC) is a global provider of technology platforms and solutions that transform how companies create, operate, and service the "things" in the Internet of Things (IoT). The company's next-generation ThingWorx® technology platform gives developers the tools they need to capture, analyze, and capitalize on the vast amounts of data being generated by smart, connected products and systems. The company's field-proven solutions are deployed in more than 26,000 businesses worldwide to generate a product or service advantage.