Siemens Digital Industries, the leading German maker of CNC controllers and drives, has chosen ModuleWorks as a partner in the context of the Siemens CNC Shopfloor Management Software products.
The CNC Shopfloor Management Software products bring digitalization to CNC machines to increase, among other things, the productivity and availability of machine tools in combination with SINUMERIK, especially the new and unique "digital native" control system, SINUMERIK ONE.
The CNC Shopfloor Management Software products focus on digitalization platforms and applications on three relevant levels:
The field level ("In Machine" with SINUMERIK and SINUMERIK Edge) for apps that increase the efficiency, productivity and availability of individual machines.

The factory level ("In Line" with SINUMERIK Integrate) for apps that increase the efficiency of machine tool lines and related processes.

 

The cloud level ("In Cloud "With MindSphere: the open,

cloud-based IoT operating system from Siemens

) for apps that help to manage fleets of machine tools.
Dr. Stefan Runde, Head of Product Management for Siemens CNC Shopfloor Management Software products comments: "The new SINUMERIK ONE, along with the CNC Shopfloor Management Software products, offers great opportunities for the digital enhancement of manufacturing processes, and simulation software plays an important role in this context. We are happy to have ModuleWorks as an established and innovate partner in our business ecosystem."
Mark Foti, Head of Digital Factory at ModuleWorks, adds: "We are excited about the new level of cooperation we have with Siemens and are looking forward to an exciting EMO exhibition where this new technology will be showcased".
About Siemens Digital Industries
Siemens Digital Industries (DI) is an innovation leader in automation and digitalization. Closely collaborating with partners and customers, DI drives the digital transformation in the process and discrete industries. With its Digital Enterprise portfolio, DI provides companies of all sizes with an end-to-end set of products, solutions and services to integrate and digitalize the entire value chain. Optimized for the specific needs of each industry, DI's unique portfolio supports customers to achieve greater productivity and flexibility. DI is constantly adding innovations to its portfolio to integrate cutting-edge future technologies. Siemens Digital Industries has its global headquarters in Nuremberg, Germany, and has around 75,000 employees internationally. Further information is available on the Internet at www.siemens.com.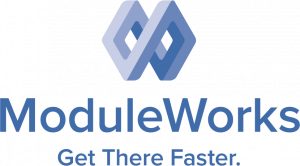 ModuleWorks is a software component provider for the digital factory industry. ModuleWorks' expertise in simulation technology is recognized throughout the CNC and CAD/CAM industry and its software components and development services are used by renowned OEMs in the digital factory industry as well as the majority of the leading CAM vendors. From standard products to exclusive development projects, we work in close cooperation with you to optimize your digital factory solutions, increase your competitiveness and to help you Get There Faster.