For the locals who love their city and the expats who already live in Aachen, this came as no surprise. With the world class RWTH University, three Fraunhofer Institutes, Europe's largest university clinic and a booming high-tech industry, more and more people are coming to study, work and live in this exciting, open and culturally diverse city in the heart of western Europe.
ModuleWorks is part of the Aachen success story. Founded as a specialist software company in 2003 by Yavuz Murtezaoglu, ModuleWorks is now the world's leading supplier of advanced software components to the global CAD/CAM industry with over 180 employees with over 52 % coming from different countries, including England, India, Russia, Ukraine and Romania.
To find out why ModuleWorks and Aachen attract so many people, we spoke to one of our software team leaders, Yury, who relocated from Russia to Aachen 10 years ago, at a time when ModuleWorks was still a relatively small but already rapidly growing company.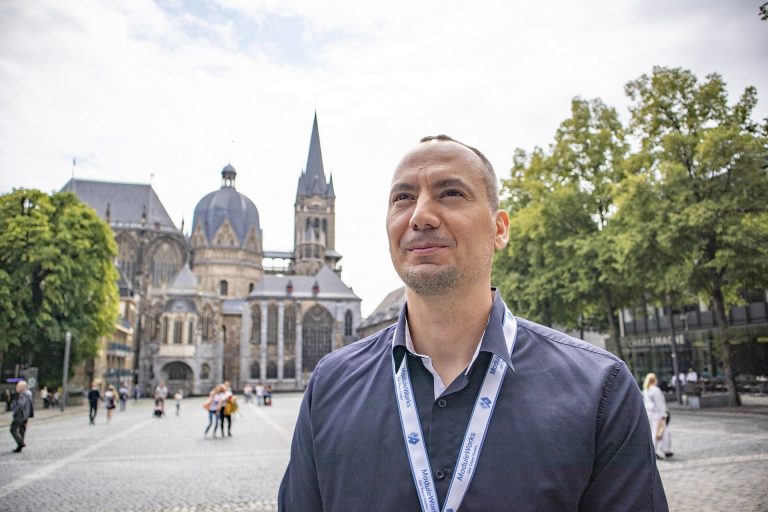 What Yury really likes about Aachen is the diverse mix of buildings, cultures and life-styles. The narrow historical streets are straight from a Harry-Potter movie, a few meters further and you'll see modern shopping streets, or if you go in another direction you'll mingle with students in lively pubs and fashionable cafes. Old-style German restaurants neighbor on trendy sushi bars. Drive 5km to the South-West and you're in Belgium, drive 5km to the North-West and you're in the Netherlands. All of this creates an eclectic and visitor-friendly atmosphere.
However, Yury's first days in Aachen were a challenge, as always when you move to a foreign country with a different language and habits, and it created some funny moments:
Another big challenge when relocating is finding an apartment. When you are new to a city, it is difficult to find an affordable apartment in a good location. ModuleWorks helps expats to get settled in their new home.
ModuleWorks takes pride in supporting its employees and has created a dynamic working culture that promotes professional development and work-life balance. No wonder ModuleWorks has won the Great Place to Work® award six years in a row!
We are very happy to have you here, Yury! Thanks for sharing your story about moving to Aachen and working for ModuleWorks.