ModuleWorks is actively engaged in a "KURS" learning partnership with pupils at the Kaiser-Karls School in Aachen. The Kaiser-Karls School focuses primarily on the natural sciences, mathematics and technology and has founded a 3D work group , which ModuleWorks is supporting. The partnership will give the pupils a valuable impression of the study and career opportunities in Computer Aided Manufacturing (CAM) and the chance to work on a 3D printing project with the support of industry leading experts.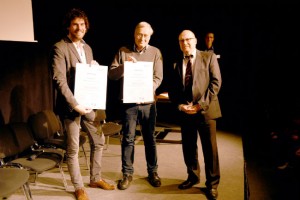 ModuleWorks is helping the pupils with the "electricVioline" 3D printing project, which will enable them to produce a fully functional violin using a 3D printer. The Kaiser-Karls School already has its own 3D printing laboratory. This new and challenging project will help the pupils to learn more about the technology and discover the full potential of their laboratory.
The pupils have already visited the ModuleWorks offices to get some initial technical tips. They also gained their first insight into the world of business. The ModuleWorks MATSE trainee (Mathematical-Technical Software Developer), Titus Kaptein, talked with the pupils about his work and experiences as a MATSE trainee at ModuleWorks. MATSE is a dual course of study in which a theoretical part is completed at the university and a practical part at a company.
The Kaiser-Karls pupils will be visiting ModuleWorks again soon for more tips and insights into the world of 3D printing. We're all looking forward to seeing the first project results.