Chiron Group has chosen the ModuleWorks Collision Avoidance System (CAS) and Job Setup as part of its new "ProtectLine" software module which will be available for all new Chiron series. ProtectLine runs on the machine control to provide real-time collision avoidance and fast machine set up.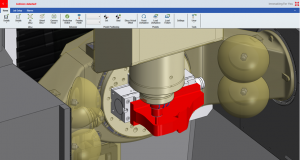 ProtectLine takes the real axis positions, machine geometries, and workpiece position and uses the same motion data as the real servos to provide a fully integrated and visually realistic simulation of the machine kinematics, tools, jaws, clamps, and fixtures as well as the material removal process. Collision avoidance runs automatically using look-ahead motion data, allowing one-shot jobs and series production to start with 100 percent override. If a collision is detected, the machining process is stopped before an actual collision occurs for more cost-effective, right-first-time machining without expensive damage and downtime.
For faster simulation set up, Chiron Group also uses the ModuleWorks Job Setup software. Job Setup simplifies and accelerates data transfer from CAD/CAM systems to the CNC. All the data required for simulating a full machine set up on the CNC (tools, holders, stock, fixtures, adapters, angular heads, target model etc.) is digitally transferred to the CNC and imported into ProtectLine. Real-time simulation with collision avoidance can start straight away.
"The ModuleWorks CNC components are cutting edge, value-adding technology", explains Pascal Schröder, Development Coordination Digitalization at Chiron. "The simplified machine setup and the comprehensive collision avoidance system significantly increase the efficiency and quality of our future machining centers."
"Real-time collision avoidance is rapidly becoming an indispensable part of the machining process", explains Mark Foti, Product Manager CNC, and Machine Tools at ModuleWorks. "When used in combination with Job Setup, the technology enhances the cost-efficiency of machining even further."
ProtectLine will be on show on a Chiron FZ16 S five-axis machining center at the Chiron Group stand at AMB 2018, 18-22 September 2018, Stuttgart, Germany (Hall 10, Stand 10A51). The sales release is scheduled for the first half of 2019.
Visit ModuleWorks at IMTS 2018, AMB 2018 and JIMTOF 2018
About ModuleWorks 
ModuleWorks is a software component provider for the CAD/CAM/CNC industry. ModuleWorks' expertise in toolpath creation and simulation is recognized throughout the industry and its software components and development services are used by the majority of the leading CAM vendors for sophisticated industry focused solutions across diverse business sectors. ModuleWorks 5-Axis and simulation software has been used in the manufacture of complex parts for over a decade and they have many users across the global CAD/CAM/CNC industry.
About the CHIRON Group
The Chiron Group, located in Tuttlingen, is a specialist in CNC-controlled vertical milling and turning centers. It has production and development facilities, sales and service offices as well as sales representatives worldwide. In 2017 the Group achieved sales of € 466 million with 2,100 employees. Roughly two-thirds of machines and solutions are exported. Major customer industries include automotive, mechanical engineering, medical and precision engineering as well as aerospace.
The Chiron Group provides with Chiron, Stama, and Scherer three brands for new machines and the retrofitting specialist, CMS. All brands stand for high precision manufacturing. Chiron primarily stands for dynamics and productivity while at Stama, the emphasis is on robust milling machines and Scherer focuses on multifunctional vertical pickup turning centers. CMS offers Chiron Group retrofit machines as well as corresponding services.