ModuleWorks announces the latest performance enhancements for ModuleWorks Dental Framework 2019. In tests performed at the ModuleWorks Dental CAM Laboratory in Aachen, Germany, ModuleWorks Dental Framework 2019 accelerated dental grinding by 60-80% compared to previous releases of the software. The tests also confirmed the performance advantages of multi-core processing for toolpath calculations.
ModuleWorks Dental Framework is high-performance plug-and-play dental CAM software that integrates seamlessly into dental CAM applications to accelerate the production of dental indications in labs and practices. It is powered by the ModuleWorks CAM kernel, which brings over 800 man-years of ongoing cutting-edge CAM software development to the dental industry. ModuleWorks Dental Framework utilizes this strong development platform to continuously enhance the performance and cost-effectiveness of dental milling and grinding applications.
"This study shows how ModuleWorks Dental Framework continuously optimizes dental CAM/CNC workflows. It's great to work hand-in-hand with our dental partners to constantly push the performance of our combined technologies and ensure it is always at the cutting edge."
Optimizing toolpath calculations
A major factor in accelerating toolpath calculations is effective use of all available computational power. Figure 1 compares the times for calculating milling toolpaths for different dental indications using ModuleWorks Dental Framework 2019 on single- and multi-core processors. Using ModuleWorks Dental Framework on only 6 threads of the Intel i7-5930K, 3.50GHz processor (6 cores and 12 logical processors) provides an average performance increase of 75% over a single-core processor. When more CPU cores are available, the performance increases are even greater.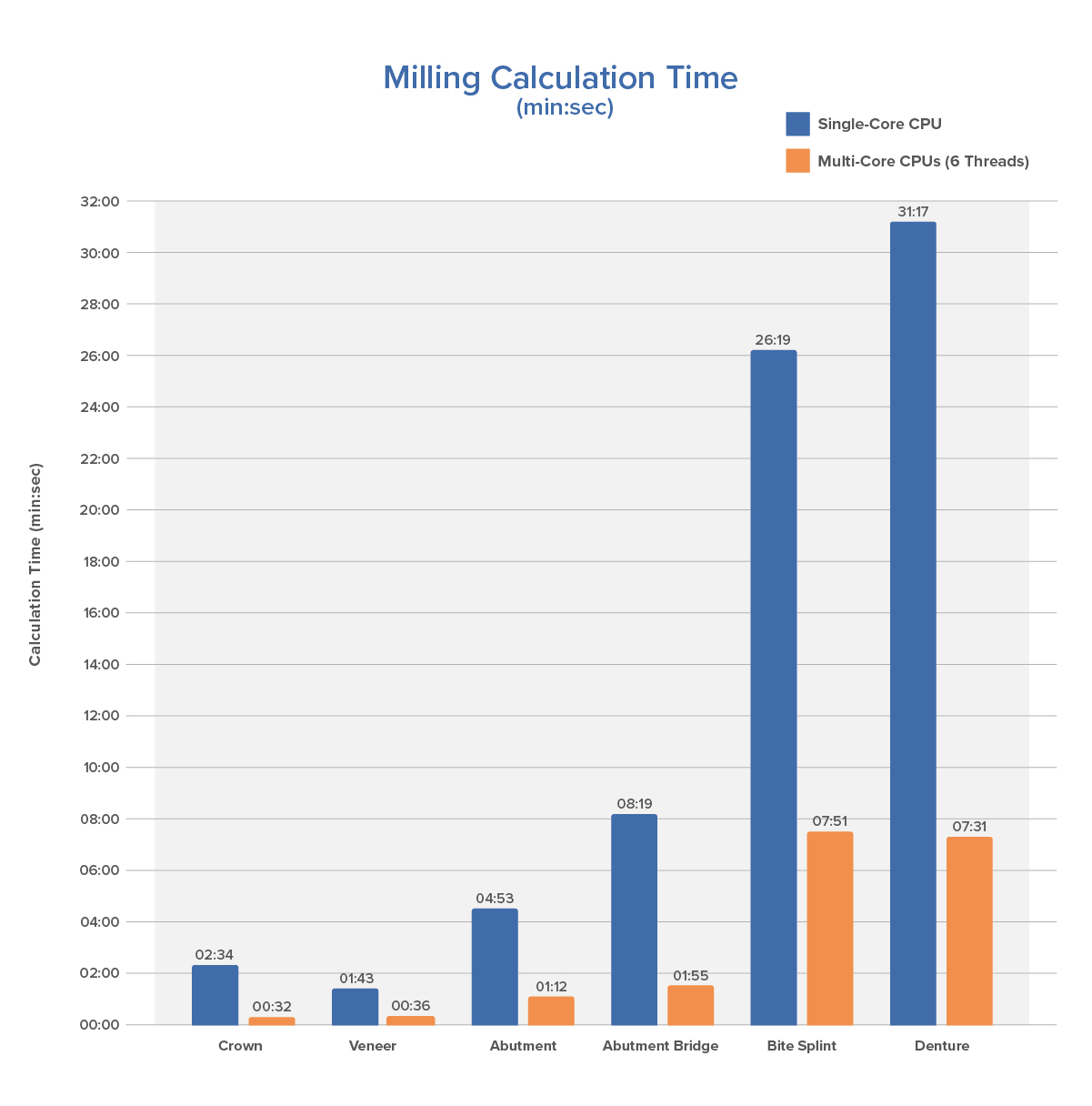 Average Performance Increase
 over a single-core processor
For grinding applications, the results are even more dramatic. Multi-core processors accelerate the toolpath calculations by around 90% (Figure 2).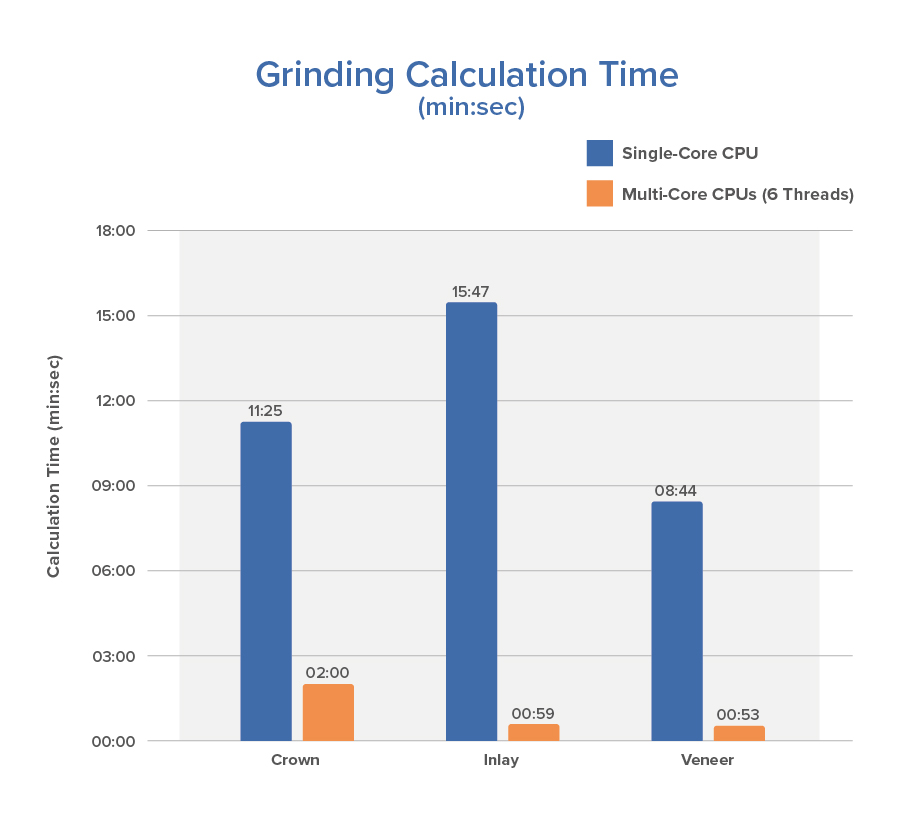 Average Performance Increase
over a single-core processor
Optimizing machining times
Grinding is a well-established CAD/CAM manufacturing process in dental labs and practices. In recent years, the trend has moved towards one-session treatment in dental practices (chair-side applications). ModuleWorks has developed special advanced CAM technologies to meet the specific requirements of this market, resulting in faster machining times and more cost-effective chair-side treatment. As Figure 3 shows, between the 2013 release and 2019 release, ModuleWorks Dental Framework has cut machining time by an average of 60-80%. Continuous development of different CNC machine kinematics and support for more and more tools ensure machining times remain at the cutting edge.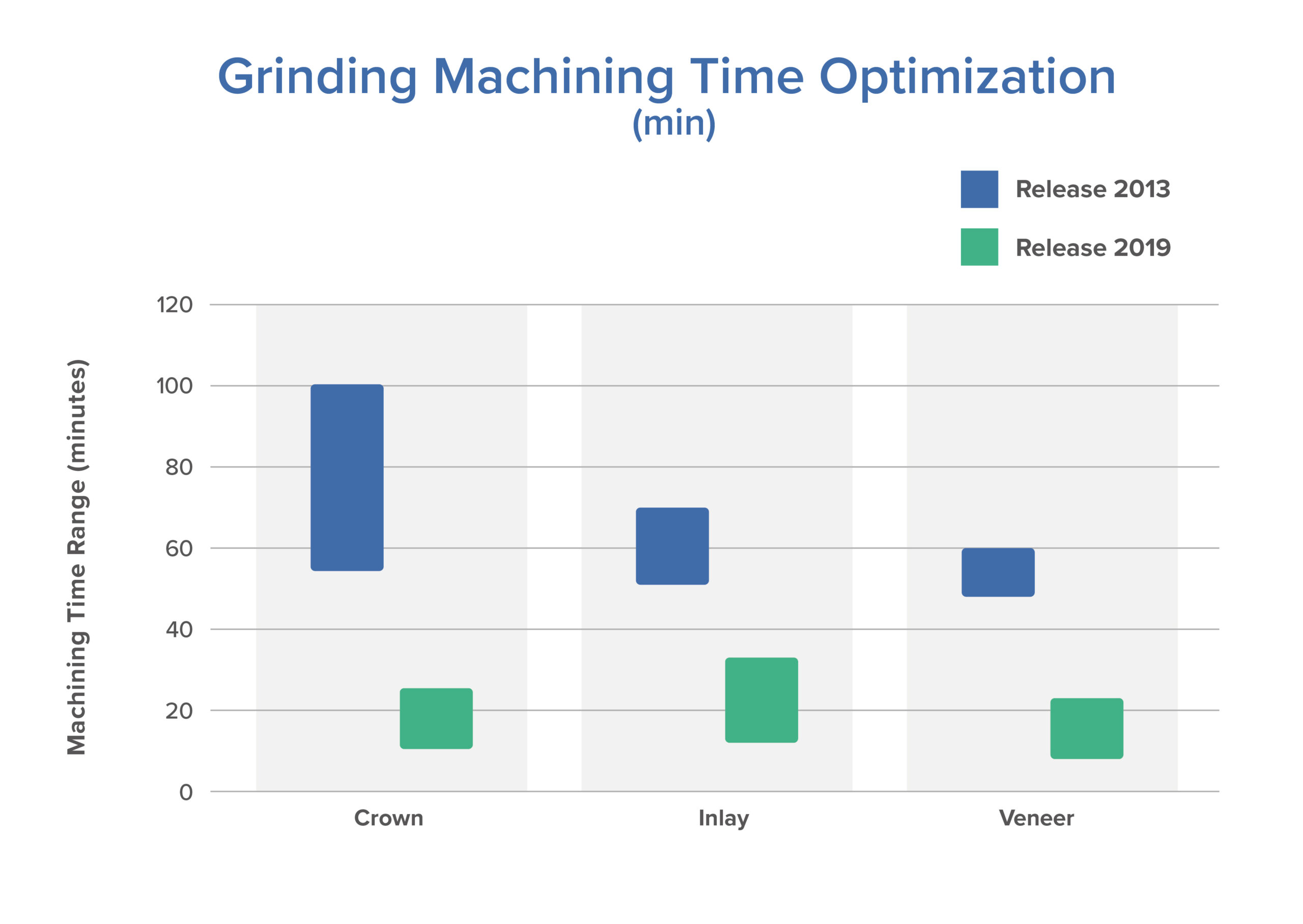 Average Performance Increase
reduction in machining time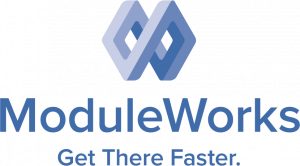 ModuleWorks is the leading software component provider for the CAD/CAM industry. With over 170 employees and 700 man years of software development, ModuleWorks' expertise in toolpath creation and simulation is recognized throughout the industry and its software components are integrated in over 500,000 installed seats of CAD/CAM software around the world. From standard products to exclusive development projects, we work closely together with you to bring your own vision of Industry 4.0 to life. Our comprehensive product portfolio and cutting-edge software components enable you to optimize your CAD/CAM solutions and connect to CNC/MTB systems to increase your competitiveness and help you Get There Faster.
ModuleWorks Dental Framework brings these benefits to the dental CAM industry. Already used by many leading dental systems, the advanced 3-Axis, 4-Axis, 5-Axis and Simulation technology provides rapid toolpath calculation, fast machining times and high quality results.