This integration of the Visual Twin has been made possible by the funding of EIT Manufacturing and the European Union for the project CAMplus4.0 which has the project number 22345.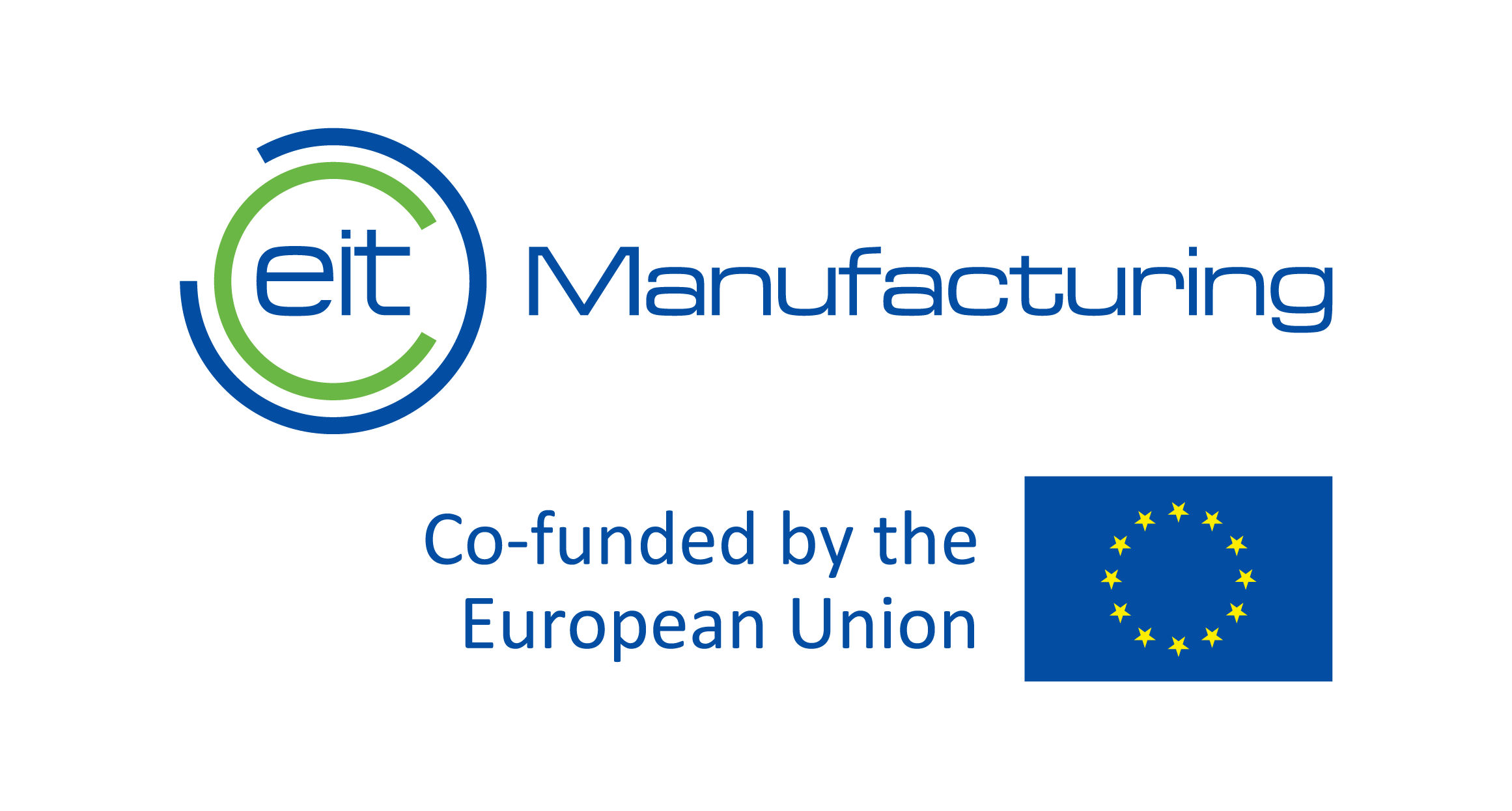 The New Version of Visual Twin at IFT's Research Workshop for Education and Research
IFT Research Workshop at the TU Wien (Technical University of Vienna – People on this image from left to right)
Michael Heiss, Principal Consultant from Siemens, Mario Fiestelmann, Visual Twin Developer, Verena Waidacher, Expert in Research from MAGNA STEYR Fahrzeugtechnik Graz, Thomas Baumgartner from EVVA Sicherheitstechnologie, Christopher Mentrup, Master Student at IFT, Simon Waldl, Student Worker for CMVM at IFT, Univ.Prof. Dipl.-Ing. Dr.techn. Friedrich Bleicher, Institutsvorstand IFT, Gernot Mauthner, Project Assistant IFT
Gernot Mauthner from the IFT in Vienna (Institute of Production Engineering and Photonic Technologies) contacted us for a new use case of the Visual Twin. Until now, it was mostly used as an eye-catcher at exhibitions and shows or to give customers the opportunity to show their machines without transporting a real machine around. Last week, we launched our first educational version which will be used by students of mechanical engineering. 
The new version of the Visual Twin is located at IFT's research workshop where they build custom modifications and develop sensors for machines, spindles and tools. They have a big selection of different machines that are used for several research topics, but also for direct training of apprentices.
Beginning of December 2022, one of our Visual Twin developers traveled to Vienna for a Seminar about basics in CAD/CAM and machining in general, organized by Gernot. A big part was to show their Visual Twin setup and tell us about the benefits for research and education. Gernots goal is to replicate a real machine as far as possible by using the virtual controller CreateMyVirtualMachine by Siemens, which is a digital twin of a real CNC controller, and connect it to the Visual Twin. They installed a big video wall of 3×3 monitors where the Visual Twin is displayed, while another big screen shows the controller interface. Beginning students in mechanical engineering shall now program G-code on it. He excitedly pointed out that this new 'gadget' of theirs will be much more interesting and exciting to work with for students as they usually cannot test their beginner programs on real machines. Most often, they only see their results in a CAD/CAM environment which is pretty far away from reality. Now, students will be able to book time slots and use the Visual Twin to see their machining result and play around with a setup that is as real as it gets.
Gernot also told us about some other ideas that could be implemented in the future. For education, a generic block of metal shall be used to be freely machinable by students. If a collision happens, or other errors were made, these could be communicated to the student by sound effects and colored markers on collided parts. Research can also benefit from the Visual Twin. They experiment with vibrations of the tool and struggle to visualize the impacts. Coolant and chips also often block the view. Visual Twin could be used side-by-side to one of their machines and use data from their modified tools with integrated sensors to visualize temperature and positional offsets due to vibration in real time, but also as a report, and show negative impacts on the work piece. We agreed that the collaboration between ModuleWorks and the IFT will certainly be innovative and productive.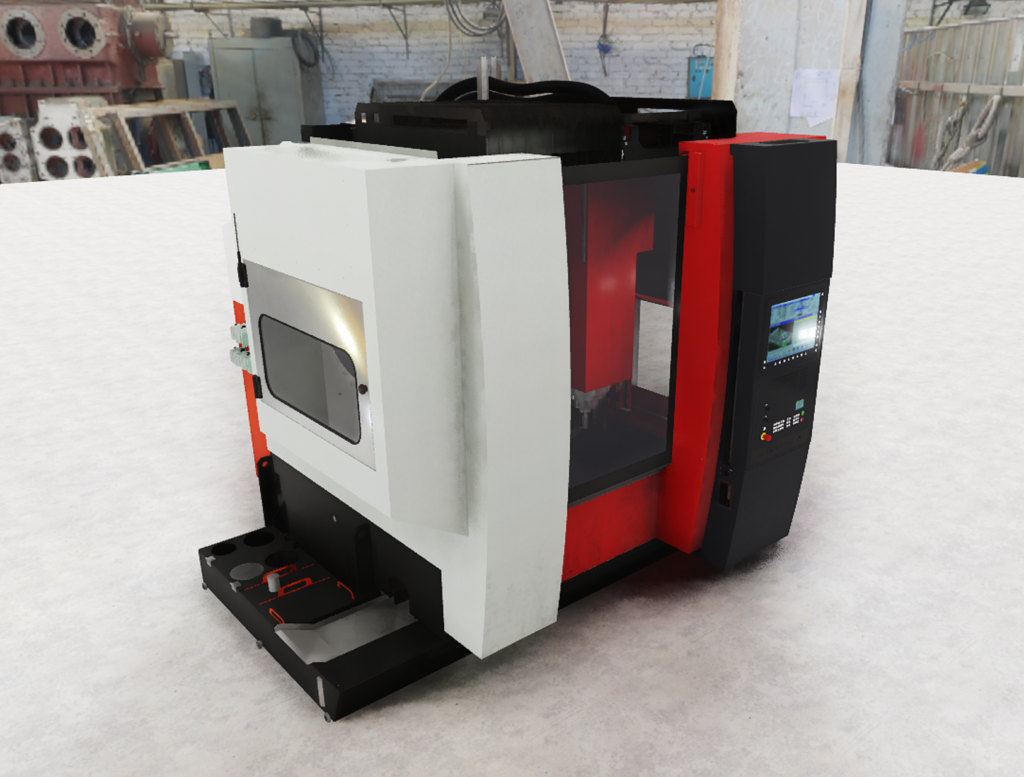 EMCO machine in a virtual 3D world, EMCO MaxxMill 500
New Technique to Move Rubber Tubes and Expand or Shorten Metal Lamella
The recently integrated EMCO machine within our Visual Twin technology represents the most advanced level of realism that we have achieved to date. This is due to the improved overall visual quality and the implementation of innovative techniques for simulating the movement of rubber tubes and the expansion and contraction of metal lamella.
Simulation for rubber tubes and metal lamella
Exploring the Machining Process from All Angles
Visual Twin is equipped with a free-moving camera feature that allows users to experience and observe the machining process of a propeller from various angles. This feature provides flexibility to the user by enabling them to change the perspective of the virtual environment and view the machining process from different viewpoints. This allows for a more comprehensive understanding of the machining process, as well as the ability to identify and analyze any issues or errors that may occur during the machining process. Additionally, it is also beneficial for educational and training purposes as it allows students or apprentices to view the process in a more realistic and interactive way.
Virtual perspectives, the machining process of a propeller from different angles